The internet revolutionized our society and also brought digital payments in our lives. How did this occur? A summary from Paypal and Neteller to Bitcoin and cryptocurrencies.
Digital payments are becoming more common in many countries as societies become cashless. However, this trend didn't start in the last few years but it is just another part of a long history of digital payments.
Today, we can pay for a coffee at a shop using different digital payments. Indeed, using cash could be uncomfortable if we need to use coins. Credit cards, debit cards, PayPal and many other services are available on a daily basis if we want to use them.
In this article, we will be going through the history of digital payments and analyze which have been the most important breakthrough. Besides, digital payments innovated our societies to use credit cards, use PayPal accounts or use cryptocurrencies like Bitcoin.
Internet And Digital Payments
Before the creation and expansion of the internet, it was definitely impossible to make digital payments. Without the basic infrastructure that is now powering digital payments of all kinds, it was impossible to think about transferring funds digitally.
The internet allowed people to share data and information around the world in just a few seconds. However, money was difficult to be handled digitally. The effort of a wide range of companies in different industries allowed for the first digital solutions to be created.
PayPal, for example, started innovating in this sector since 1998 when it was created. The firm was known as Confinity and two of its founders were Elon Musk, Peter Thiel.
From Digital Payments Firms to Bitcoin
PayPal is a company that allows users to process money transfers electronically. The firm works with individual clients, companies and other institutions that want to receive and send payments in a fastly and easily. Moreover, they innovated the digital payment industry by allowing customers to use their e-mail to send payments. Nowadays, PayPal is one of the largest companies in terms of revenue in the United States.

Other companies that have also been appearing as PayPal competitors include Skrill and Neteller. Skrill is an e-commerce business and payments platform that helps users perform money transfers using the internet. Skrill was founded in 2001 and it also offers a digital wallet and a prepaid card.
Meanwhile, Neteller was founded in 1999 and since that moment it is offering payments services to a large number of firms, including forex trading companies and social networks. By the mid-2000s, many companies were already offering new options for users to make digital payments all around the world.
The gambling industry played an important role in helping these payments services providers to expand over time. PayPal has usually been reluctant from offering services to different gambling sites, which attracted a large number of users from different regions. That's why Neteller and Skrill received important support from the gambling community.
Apple Pay and Google Pay

With the expansion of smartphones and more advanced cellphones, PayPal, Neteller and Skrill became more than popular. These firms were able to settle in the market and reach new customers. However, new participants were entering the space.
Launched in 2014, Apple released its mobile payment service that help users process simple payments using different devices. This is a very useful solution that integrates digital payments in it's online systems. In addition, Apple Pay users can use their credit and debit card information, allowing a more streamlined user experience.
A year later, Google released its Google Pay solution that was the main competitor to Apple Pay. Google Pay is a digital wallet platform that offers similar solutions to Apple Pay. Both firms use are leveraging Near Field Communication (NFC) technology. Additionally, with NFC it is possible to transmit data about credit and debit cards. Also, this data would be later used to pay to retailers and other shops.
These solutions are very useful for individuals that use their smartphone at all times and that prefer to hold their financial data on their devices.
Sending digital payments across border with Cryptocurrencies
Despite the expansion of all the aforementioned services, transferring value across borders became a task that is not easy to handle. Banks and other financial institutions cannot move funds from one country to another in such an easy way.
Bitcoin was the first digital system that allowed individuals to exchange value from one region to another. By using blockchain technology Bitcoin and other cryptocurrencies are helping users not only to make cross border transfers but also daily purchases.

This was a natural evolution in the digital payments industry. For example, in September 2019 someone transferred 94.504 Bitcoins in a single transaction. Besides, this transaction has a net worth value of 1 billion USD and only at a cost of 0.065 Bitcoin which is around 650 USD. In other words, 1 billion USD in value was being transferred cross border at 0.0000001% in fees, which is revolutionary.
Although there are many challenges that the market must solve before it is able to become used by the masses, Bitcoin has been operating for over ten years.
The future of virtual currencies is highly dependent on how regulators will be considering these assets. At the same time, the market must decide how Bitcoin and cryptocurrencies will fit in. Firstly, Bitcoin can be used as an investment tool and a commodity. Secondly, it could be a solution to make transfers cross border and process payments.
Other Payment Solutions
Other companies that have also been enabling payment solutions include Square and MoneyGram. Square offers financial solutions to merchants that have to process payments. Some of their solutions include point of sale terminals and mobile payments.
MoneyGram helps individuals around the world process cross border transactions in a fast and simple way. However, sending money cross border is costly and moneygram charges 2% for amounts above $500. Also, founded in 1940, the firm is one of the most recognized cross border payments services providers in the world.
Conclusion
The digital payments industry has been evolving over time with several innovations and solutions. Nowadays, the payments industry remains a massive market that has yet a lot of space to grow. In the future, new innovations like cryptocurrencies will allow it to keep growing.
Disclosure: This post could contain affiliate links. This means I may make a small commission if you make a purchase. This doesn't cost you any more but it does help me to continue publishing cool and actual content about Bitcoin & Crypto – Thank you for your support!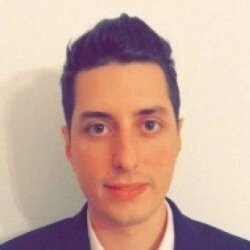 Carlos is an international relations' analyst specializing in cryptocurrencies and blockchain technology. Since 2017, Carlos has written extensively for leading cryptocurrency sites; with over 3,000 articles published.