How to buy Polkadot on Binance? This guide will explain it in detail in 5 simple steps.
Since the start of 2021, the entire cryptocurrency market has officially turned 'bull' again after 2 years of consolidation. During that period of consolidation, many new blockchain projects has been in continuous develpment. One of the projects leading the way in this sector is Polkadot (DOT).
In 2021, the outlook for the Polkadot blockchain looks very promising with realtime adoption taking place; for instance the launch of Polkastarter(POLS) and the growth of the Kusama network.
This guide is going to show you how to get your first DOT tokens, via one of the world's most popular exchanges, Binance.
How To Buy Polkadot On Binance: Quick take
In general, buying Polkadot(DOT) at Binance is a straightforward process, however, first timers must do some extra necessary steps before they can own the DOT tokens.
In short, below the buying process for Polkadot at Binance:
Register at Binance

for free by email or mobile phone
Verify your account(

KYC

)
Send crypto(BTC, ETH, or any other) to Binance
Convert this crypto to Polkadot(DOT)
Or: Buy Polkadot(DOT) with a credit card at Binance
Withdraw your DOT tokens from Binance
Next in this guide some deeper research about the Polkadot project. Additionally, a more detailed explanation about the steps to take when buying DOT a Binance.
What is Polkadot?
In a nutshell, Polkadot is a scalable heterogeneous, multi-chain technology. Meaning, the Polkadot blockchain functions as a bridge and 'connects the dots' between different blockchains, and when one innovates all others might benefit from it.
In particular, the Polkadot network is much more than just a single cryptocurrency. Additionally, it's a network that uses a smart contract protocol just like Ethereum. On their website the team of Polkadot states about their cryptocurrency:
'Polkadot is a shared multichain network, which means it can process many transactions on different chains in parallel, eliminating the bottlenecks that existed on older networks that processed transactions one by one.'
In general, the Polkadot Network can co-exist besides Ethereum and functions as a bridge between other blockchain networks. In light of being a brand new protocol, many blockchain developers have already started building new projects on Polkadot.
The history of Polkadot cryptocurrency
Polkadot was launched with a mission to transform the internet into a better one called: Web3. Additionally, Web3 represents a fully decentralized web and censorship-resistant. Polkadot will be the center of future internet – digital world, internet of things, and web decentralization.
The Polkadot cryptocurrency made its birth out of an ICO sale back in 2017. At that time the ICO was very successful and within three days all tokens were sold were they raised $145 million in ETH. Furthermore, ICO investors were obligated to hold on to their DOT tokens for 2 years.
At the time of writing the total market cap of Polkadot cryptocurrency is $34 billion. As an illustration, an early ICO investor in 2017 should now make 100x on the investment while things are just getting started. Founders of this ambitious project are Gavin Wood, Robert Habermeier, and Peter Czaban.

Why Buy Polkadot on Binance?
In this guide, I'm focusing on the Binance trading platform. Why Binance? Based upon the current figures it's one of the safest and highest volume exchange on the globe.
At the same time, the Binance exchange has several advantages compared to other digital asset exchanges in the space. Binance has one of the largest liquidity for altcoins in the crypto market and it offers a large number of trading pairs. In the last 24 hours, Binance handled almost $58 billion(!) in trading volume, according to data provided by CoinMarketCap.
Besides, if you are looking for additional options besides trading then Binance is the place to go. For instance, they also offer cryptocurrency staking(pools) via Binance earn, cryptocurrency lending, and margin trading(5x).
Cryptocurrency trading pairs for DOT on Binance
Binance has some rich options for traders to buy or sell Polkadot in several trading pairs:
DOT/BTC
DOT/BNB
DOT/USDT
DOT/EUR
DOT/GBP
DOT/TRY
DOT/BUSD
Finally, I want to mention that you can get an extra discount(10%) on trading fees if you sign up at Binance by using this link. Moreover, the discount will be deposited back into your wallet for a lifetime 😀
How Do I Buy Polkadot On Binance(5 steps)
How to buy Polkadot coin on Binance? At this stage, I'll explain in more detail what is needed for every step to acquire some brand new Polkadot cryptocurrency.
Of course, it's totally up to you to decide if you want to trade these DOT tokens, earn additional passive income by staking, or just holding these coins in your wallet.
1. Register for an account at Binance
The first step will be to register for an account at Binance. If you haven't already, register for an account. The process can usually be completed very quickly.
It just takes a few simple steps in order for users to be able to start trading digital currencies on the platform. However, if the goal is to have higher limits, the process needs verification and can take some more time to be completed.
It's important to know that you have two options for sign up: by email or by mobile phone.
2. Verify your account
Before you can start trading Polkadot on Binance you have to confirm your account. Additionally, this can be done in two ways and depends upon the way you did your registration.
The first way would be to confirm your email adress by clicking on the link that has been sent to you.
On the other hand, if you used your mobile phone you have to enter a confirmation code that has been sent to you by SMS. Remember that this code remains valid for just 30 minutes!
Verification on Binance
For cryptocurrency traders there are three levels on the Binance platform: Level 1, Level 2, and Level 3. In the first place, there is Level 1 which allows you to start trading on the platform without any verification or KYC procedure.
Additionally, you are only allowed to trade or withdraw at a maximum of 2 BTC per 24 hour. If you are a professional trader and want to trade in bigger volumes then you have to upgrade(with KYC procedure) to level 2 or even 3. Level 2 allows you to trade and withdraw at a maximum of 100 BTC per 24 hours.
3. Deposit or buy Polkadot
After you have verified your account(whether by email or mobile) the following screen appears to get started on Binance:


At this point you have three options to acquire some Polkadot(DOT):
deposit fiat
deposit crypto
buy crypto with credit card
Also, make sure you have set the 2FA authorization to upgrade your security at Binance.
Deposit fiat at Binance
If you want to deposit money by bank transfer it's possible to do this with EUR, USD, or GBP. Furthermore, it depends on what country you live in to choose the method for deposit:
SEPA transfer
Bank card
Ideal
Deposit crypto
Another option that answers the question 'how to buy Polkadot on Binance' is by just depositing crypto(BTC, ETH or any other). Moreover, this is the quickest and cheapest way to acquire DOT in just minutes.
In other words, if you already have some crypto in a local wallet or at another exchange, just sent it over to Binance and you can start using Binance right away!
Buy Polkadot with credit card
The last option you have in buying Polkadot at Binance is by using a credit card. To do this choose above in the menu for 'Buy Crypto' and then 'Credit/Debit card'. A new screen appears that allows you to select the fiat currency and what coin to buy.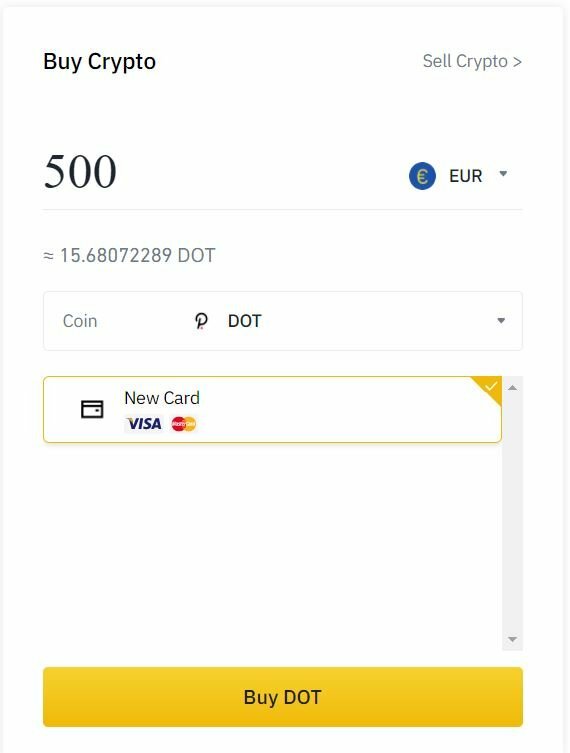 4. Wait for your deposits
This step is only required when you chose to deposit crypto to Binance. In addition, deposits and withdrawals are often cleared quite quickly, but depending on the network load it can take a little while. Wait for Binance to give you confirmation that your deposit has been successful.
5. Buy Polkadot(DOT) on Binance
The last step explains how to trade or buy Polkadot coin on Binance. Basically, you have three options in doing this: convert, classic or advanced trading. Moreover, all these three options are available under the menu item 'Trade'.
Convert
First, the convert option, which is the easiest solution in 'how to buy Polkadot on Binance'. Additionally, you just swap your USD, crypto, or stablecoin(USDT, BUSD) for DOT right away without the need to load the Binance trading engine interface.

Classic
On the navigation bar at the top of the site, hover over "Trade" and click "Basic".
Now go to the box on the right side of the page. Select the coin you wish to trade with (BTC, ETH, BNB, or USDT) and search for DOT. Select the pair that comes up (e.g. DOT/BTC).

Advanced trading
Binance offers a lot of data, such as price and order history, to help you make trades at the right time. They also give you the ability to set limit orders. This means you set the price you want to buy (or sell) DOT for, and once it hits that price, the exchange will automatically make your trade.
These advanced trading options have been created for those users with more knowledge about markets and how virtual currencies and exchanges work. Although it seems complex, it is very easy to use for those users with some experience in the cryptocurrency market.
You can load this screen on the navigation bar at the top, hover "Trade" and click "Advanced".
Choose the amount to buy
Finally, the basic and the advanced trading screens give you the ability to enter the amount of DOT you want to buy at a given price in the order book.
Just click the green "Buy DOT" button to complete your trade. Once Binance confirms your transaction, you're done!
Optional: Withdraw Polkadot from Binance
It's a good idea, when not trading, to move your coins off the exchange and into a secure wallet that you control. This way the security of your funds is in your hands, you are not at the mercy of the exchange's security measures.
To do this, you will need a wallet that supports DOT tokens. The imToken mobile wallet is a feature-rich software wallet and is available for iPhone and Android. Alternatives include the Atomic desktop wallet for Windows and Mac. However, for the highest level of security, I recommend using a hardware wallet like the Ledger Nano X.
When you have a wallet ready, you can withdraw your tokens from Binance. Go to the menu at the top of the page, select "Funds", then "Withdrawals". Choose DOT from the dropdown menu.
In the past, Binance was affected by a hack that resulted in the loss of around 7,000 BTC. Although the exchange was able to give users back the funds lost, it is always better to be in control of the private keys of the digital assets.
How to withdraw from Binance

Put in the address from your Polkadot wallet as the DOT Withdrawal Address. Double-check the address is correct, choose how much you want to withdraw, and hit submit. Binance will confirm when your transaction has been completed.
…and that's all you need to know about how to buy Polkadot on Binance, one of the most used trading platforms on the globe with the highest daily trading volumes. Happy trading and take care!
The following articles might also be a good read for you:
Disclosure: This post could contain affiliate links. This means I may make a small commission if you make a purchase. This doesn't cost you any more but it does help me to continue publishing cool and actual content about Bitcoin & Crypto – Thank you for your support!

Latest posts by Jelmer Steenhuis
(see all)