An introduction to the best methods to buy Litecoin instantly with fiat money. Also, this guide explains the project in greater detail.
For more than a decade now, cryptocurrencies have been rocking the boat as a new asset class. It all started with Bitcoin, considered as being a revolutionary new kind of digital money. Bitcoin is the first 'money protocol' not being introduced by a single company, but from the global open source community instead. As a result, it didn't take that long when other communities appeared which introduced another cryptocurrency which is called Litecoin. Litecoin as a cryptocurrency remained in the shades of Bitcoin for a very long time but witnessed enormous growth also. For this reason, this guide will cover Litecoin and the best ways to buy Litecoin instantly.
Short history of Litecoin
Litecoin is a cryptocurrency that has a limited supply. Not more than 84 million coins will be ever mined or created in existence. When talking about Litecoin you can't deny it's big brother Bitcoin upon which Litecoin is created. Litecoin was released back in 2011 via an open-source client on Github. Litecoin was the first fork out of the Bitcoin source-code and was released under its own unique properties.
Bitcoin as Gold Litecoin as Silver
While Bitcoin was seen as "gold" and a store of value for long-term purposes, Litecoin was seen as the "silver" and a means of a transaction for cheaper and everyday purposes. In other words, Bitcoin has a limited supply of 21 million coins and Litecoin has a limited supply of 84 million. This is a ratio of 1:4 and should make Litecoin much cheaper on a daily basis.
Some Litecoin stats
| | | |
| --- | --- | --- |
| | Bitcoin | Litecoin |
| Coin limit | 21 million | 84 million |
| Algorithm | Sha-256 | Scrypt |
| Mean block time | 10 minutes | 2.5 minutes |
| Difficulty retarget | 2016 block | 2016 blocks |
| Block reward details | Halved every 210000 blocks | Halved every 840000 blocks |
| Initial reward | 50 BTC | 50 LTC |
| Current block reward | 12.5 BTC | 25 LTC |
| Block explorer | blockchain.info | block-explorer.com |
| Created by | Satoshi Nakamoto | Charlie Lee |
| Creation date | Januari 3rd, 2009 | October 7th, 2011 |
| Market cap | $143 Billion | $7 Billion |
One of the main differences in both currencies lies in the way both coins are mined and scripted. Both coins are so-called PoW-coins and use a lot of electricity to mine the different blocks on the Blockchain networks.
How To Buy Litecoin?
Nowadays it's quite easy to instantly buy Litecoin if you compare it with the early days back in 2013. Back then Litecoin, as a copy of Bitcoin, was considered an altcoin and the few crypto exchanges out there were only willing to sell for Bitcoin.
Since then a lot of developments took place within the entire cryptocurrency space where a lot(!) of new exchanges appeared. As a result, it's very easy to buy Litecoin with fiat or credit card in a very short time.
Below the cryptocurrency exchanges which will give you the best result in acquiring Litecoin quick. The list below will be covered in more detail later on in this guide.
Best exchanges to buy Litecoin instantly
The general process of buying crypto at any exchange
One of the most famous properties of cryptocurrency is that it isn't tied to physical borders. Also, it's very easy for anyone in the world to buy a cryptocurrency like Litecoin. Nowadays, buying Litecoin instantly can be done with only one limit and that is a working internet connection!
How to do this properly?
The process of buying crypto at a regular exchange could vary, but the basic principles of buying remain the same:
Register at an exchange which sells Litecoin(*See list above*)
Complete KYC/AML checks if any
Chose the preferred method for a deposit(Wire transfer/credit card)
Make the deposit in any currency(USD/EUR/GBP etc)
Buy Litecoin with these funds
The procedure described above uses almost any cryptocurrency exchange in the world. For buying a cryptocurrency like Litecoin in a fast way(hours instead of days) there are currently two options for you. The first option is the old fashioned way by buying with Bitcoin. This method is probably the quickest way, but you have to own BTC already. The second option is to buy with a credit card.
This guide discusses the best ways to buy Litecoin with a credit card and is aimed at users who are relatively new to cryptocurrency.
Best Websites To Buy Litecoin with debit/credit card
Coinmama
Coinmama offers the possibility to buy Litecoin instantly. Trading cryptocurrency is possible without signing-up at a centralized exchange first. They are a known player in the crypto space and have been there since 2013. To buy or sell crypto, you can do it from within their platform and they choose the exchanges with the lowest exchange rate. It doesn't matter where you are located in the world, because their platform offers you to trade from anywhere.
The exact steps for acquiring Litecoin will be explained in the procedure described below.
1. Create your Coinmama account
Signing up and registering at Coinmama doesn't take more than just a few minutes. Just confirm your email address by clicking on the link sent to you.
2. Get verified to buy Litecoin
You must verify your account before buying Litecoin with a credit or debit card. You will need to upload your passport, national ID or other documents based on your preferred level of verification. Once your documents are processed and approved, you can buy Litecoin instantly for up to 15,000 USD with your credit or debit card.
Verification in more detail
If you are doing online verification for the first time, it might look wired to you when you need to take a selfie with your identity document. So I will give you a heads up: Just in case you send a low-quality selfie, the Compliance Officer may ask you to upload another selfie with better quality.
3. Place your Litecoin order
Sign in to the Coinmama account you created in the first step, enter the desired wallet address, fill out the form and buy Litecoin instantly. It's really that simple!

Bonus video: How to buy crypto with Coinmama
Coinbase
Coinbase is a USA-based cryptocurrency exchange. Based on daily trading volumes it's one of the biggest and most popular exchanges in the world. They also support the instant purchase of Litecoin via Visa/MasterCard credit and debit card.
For buying Litecoin instantly, your credit/debit card should support '3D Secure'. To find out if your card supports this, you can just try adding your card to Coinbase and it will give you an error if it doesn't.
Furthermore, you can instantly buy Litecoin through Coinbase, provided that they serve your country. At present, they serve more than 100 countries, but unfortunately, not all countries are able to buy and sell.
You can check if their service is available in your country here.
How to acquire Litecoin on Coinbase?
Steps to add a credit card to Coinbase
Register at Coinbase
Complete ID verification with photo
Go to the payment methods page.
Click on +Add Payment Method on the right-hand side.
Choose Card and add the credit/debit card.
Accept and allow Coinbase to make two small transactions.
Coinbase will make two very small test transactions between 1.01 and 1.99 in your local currency. Log in to your card statement account and note the amount of those transactions.
Enter the amounts transacted in the Coinbase app / website
You should now see a window that says "Credit/Debit Card Added" and a Buy Digital Currency button.
How to buy Litecoin instantly on Coinbase

Go to the dashboard / home page
Hit the blue trade button on the upper right
Select Litecoin as cryptocurrency
Select buy/sell tab and enter the requested amount
Select your credit card which is available as buy method
Hit preview purchase and confirm
Done! Now you are the proud owner of some Litecoin which will be available in your wallet.
Coinbase Fee: Coinbase charges a standard fee of 3.99% on all credit/debit card purchases.
Important tip
To avoid paying fees all the time when purchasing new crypto, I would advise you to buy some Bitcoin also. The next time you want to buy more Litecoin or any other altcoin and use Bitcoin as a payment method, you only pay 0.5%(!!) for the transaction.
Last but not least, to give you a good start on Coinbase, the platform offers 'free crypto' for starters. Use the affiliate link above to sign up. When you do this and spend at least $100 buying crypto, you get $10. Also, after you have signed up, you can use your own referral to invite others and also get $10 rewarded in crypto. Pretty nice isn't it?
Wirex

If you are a frequent traveler like me, this option would suit you best, trust me on this. Wirex is just more than a regular cryptocurrency exchange. Of course, when you are interested in buying Litecoin only their platform fits your needs.
However, if you are a traveler you also can use their debit card which is backed by crypto. Now you also can spend cryptocurrency just everywhere in the world where VISA is accepted as a payment method. The big benefit of this is that you don't need to convert to local currencies at high fees. Also, you can just fund your debit card with any cryptocurrency in just minutes in a borderless way! Pretty awesome isn't it?
In short, Wirex can be described as an online platform where you can use fiat to buy cryptocurrency instantly. Also, their platform can be used to store, buy and spend crypto in a borderless way.
How to Buy Litecoin Instantly on Wirex
Go to Wirex home page and hit register button
Submit your basic information(e-mail, country of residence) and confirm the email sent to you.
Verify your phone by a code sent to you
Show proof of residence by sending a photo, document ID and a recent bill
You can upload the documents via 'Get verified now page'
After this verification succeeded, you have two options. The first one is just buying the cryptocurrency at their exchange(see below). The second one is to order the physical debit card which allows you to spend your crypto everywhere in the world.

Link credit card to your account
You can link a new card from the Preferences and Top-up screens, or from the Order Card screen if your accounts are empty.
To link a new card in from Preferences, go to Preferences → Linked Cards → Link New Card. You will be prompted to enter the card number, expiration date, CVV, and cardholder name. Then you'll be asked to confirm your billing address. Once you've done this, just hit Confirm to link your card.
To link a new card from the Top-up screen, go to Linked Card → Link New Card. Then repeat the process above.
If all your Wirex accounts are empty when you order a new Wirex Visa card, you will also be prompted to link a local card at that time to top up your account. To do this, select Link a New Card when prompted. The process will be the same as described above.
As soon as you link your local card, you can start using it to top-up your Wirex account and buy cryptocurrency.
Note: Only cards that are 3-D secure can be linked to Wirex.
Now it's very easy to buy Litecoin instantly by just choosing Litecoin in the left menu and then 'Add funds'.
Bitpanda

Bitpanda GmbH (formerly known as Coinimal) is a fin-tech company based in Vienna, Austria specializes in selling and buying Bitcoins and other cryptocurrencies. It has quickly grown to become Europe's leading retail broker for cryptocurrencies. With over 900K users the company has recently expanded its services to allow users to invest in precious metals (gold, silver) as well.
The company was founded in late 2014 and has since grown to become one of the more popular options to purchase Bitcoins around Europe. Moreover, if you live inside the EU it's one of the cheapest ways to buy Bitcoin with a credit card or SEPA transfer.
How to Purchase Litecoin Instantly on Bitpanda
First, you have to do the regular sign up process.
Click on Sign Up button
Type your mail address, solve the captcha and click Register
You will get a mail with a confirmation link
Open the link and choose your password (make it)
Done, you're all set and ready to go
The next thing you have to do is choose the type of verification to continue to use this platform. Currently, there are two options which are light verification and full verification. For buying Litecoin immediately I would recommend you to do the light option. The process is as follow:
Click on your user icon
Click on Verify now
Enter your personal details
Confirm that the information given is true, complete and accurate and click on Save and continue
Choose the Country of issuance, Type of identification, and your preferred language for the verification and click on Continue
Click on Start light verification
Confirm the notes and click on Continue
Confirm the note about the processing of your biometric data and click Continue
Allow the browser access to the video camera and microphone of your device and follow the video instructions of the verification provider eID
The verification consists of a video identification procedure. You will be connected to the provider immediately after clicking Continue.
When all this is done and ok, the next thing to do is actually buy Litecoin on the platform. This is very easy. Choose the dashboard and click 'Trade' in the upper right. Now you only have to choose Litecoin and the proper payment method. Good luck!
Kucoin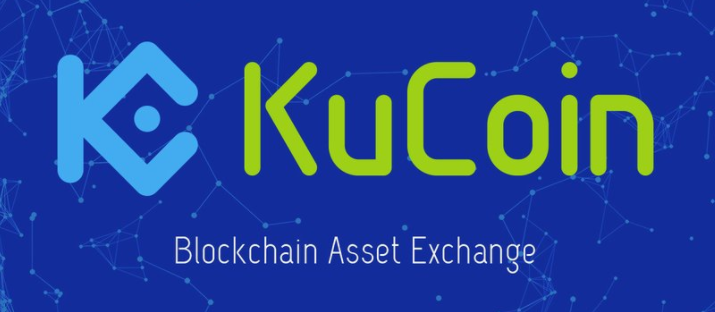 KuCoin is a relatively new player in this young market of cryptocurrency exchanges where users can trade digital currencies. Although China has a difficult policy towards cryptocurrency exchanges their headquarters are based in Hong Kong.
This difficult climate towards cryptocurrency exchanges doesn't affect the business model of KuCoin much because they're aiming at foreign markets. Back in 2013, the founders started with setting up the foundation by making a technical implementation of the trading platform.
Later on, in 2017, the founders finished this work and made the platform available for the public. As of writing the platform ranks at position 70 on the list of exchanges which is based on trading volume for the past 24 hours.
How to buy Litecoin instantly
The reason I added this exchange is that it's probably the fastest way to buy Litecoin of all options in this guide. Kucoin allows you to go and trade at their platform without going through the extensive KYC process first. As a result, you are just trading in a few minutes!
The way to start trading at this platform is a follows:
Register with email
Confirm your email by clicking the link
Add your credit card and verify
Buy Litecoin at their platform