What is the best way to find upcoming NFT projects? This article gives an exclusive view of all types of NFTs and the best places to go as an NFT investor.
Due to rising popularity, it has become very difficult for investors and crypto enthusiasts to find upcoming NFT projects. They became so popular in such a short timeframe that there have been scams, art pieces that skyrocketed to unprecedented levels, and a clear difficulty to find starting NFT projects.
NFTs stand for non-fungible tokens. These non-fungible tokens are different from other cryptocurrencies or crypto tokens in the market. The main difference is related to the fact that these are tokens that are unique. That means that there are no two tokens that are the same.
Nowadays, when we handle BTC, each BTC looks the same. The same happens with a $10 US dollar bill. They all look the same. Instead, NFTs are unique and there are no copies of the same NFT in the market.
Due to this reason, we have seen the expansion of unique and very attractive NFT projects. Some of these projects are selling NFTs that then skyrocket in price and that help investors make large returns on their investments. But if you want to find upcoming NFT projects you will realize that this is not an easy task to do.
In the next few sections, we share with you all the information that you should know about how to find starting NFT projects. You will get all the details about the type of NFT projects that you can find and how to search for them.
What type of NFT projects are there?
There are different types of NFT projects in the market. Every new project released has its own characteristics and features that make it unique. Most of the time, we find collections that offer users the possibility to use these NFTs while others offer staking options.
If you want to find starting NFT projects, you should also try to understand the type of NFTs that they are selling. This will help you have a clear idea of the type of tokens that you will receive and how you can use them.
As suggested above, we have NFT projects with utility and NFT projects that offer crypto staking. Before you invest in these projects, it is definitely important to understand the difference that there is between these types of NFTs in the market. Let's get into the details.
NFT projects with utility
NFT tokens that have a utility are those tokens that let users get access to unique solutions linked to the NFT they hold. For example, users that hold an item in a blockchain game are able to use this NFT in that specific ecosystem. Another NFT with utility could offer holders the possibility to get access to unique events, platforms, or solutions.
Basically, NFT projects with utility can be compared with utility cryptocurrency tokens such as Binance Coin (BNB), FTX Token (FTT), and many others. These tokens let users get access to unique services in these virtual currency exchanges. The same happens with NFT projects. Users that hold these NFTs are able to use these tokens for different activities linked to that specific project. Why do some NFTs have more value than others? Foremost, it all depends on the utility that they have. If you try to find upcoming NFT projects, then searching for those with great utility could be a great option.

NFT project with staking
But there are other types of NFT projects that offer holders the possibility to stake their tokens in order to earn rewards and participate in different initiatives. Investors can purchase an NFT collection and stake it in order to earn rewards. This is similar to cryptocurrency tokens that rely on a Proof-of-Stake (PoS) consensus algorithm.
Without having to sell their NFTs, investors are able to stake their non-fungible tokens and get an income from their collection or single NFT. The cryptocurrency market has been evolving and these types of NFT are now becoming highly popular in the cryptocurrency market.
Before you find starting NFT projects, it is important to understand the difference that there is between NFT tokens that offer staking and NFT projects that offer a utility token. Users can stake their NFTs on different platforms, depending on the type of non-fungible token that they hold.
Many popular sports brands and sports related play-to-earn games have been recently launched. Moreover, NFTs are a popular trend in the sports industry at the moment. Therefore, read this post about 15 remarkable nft sports projects in 2022.
Why is it so hard to find successful Upcoming NFT Projects?
We know that it is extremely difficult to find successful upcoming NFT projects. But there are some reasons that explain this situation. The cryptocurrency industry has usually been very decentralized compared to other industries such as traditional finances. This unique characteristic of digital currencies and the blockchain industry make it very difficult for investors to find successful upcoming NFT projects.
Nowadays, there are many blockchain networks where developers and projects could launch their NFTs. Some of these platforms include Ethereum (ETH), Binance Smart Chain (BSC), Solana (SOL), Polygon (MATIC), and many others. As you can see, there is a dispersion of blockchain networks with their pros and cons.
Therefore, NFT projects struggle to focus on just one blockchain network. This is why we see projects launching on Ethereum and other projects launching on Polygon, and so on. This makes the whole situation extremely difficult for investors. They have to engage on different blockchain networks and they also have to check on different forums, social media networks, and groups.
New NFT projects can be launched in a Short Timeframe
Another thing that we should take into consideration is related to the speed at which new projects are released to the market. Almost on a daily basis, we see new and innovative NFT collections that are sold at different prices. Investors then have to analyze a different number of variables that would let them make a decision on whether to invest in these projects or not.
The problem is that if you want to find starting NFT projects, you will struggle to find a common measure for all of them. In some cases, NFT collections might sell for a few dollars while others might have a very high price. Furthermore, there have been NFTs sold for very low prices that then became very valuable and pieces that were sold for very high prices, and when they saw their value drop.
Moreover, new projects and initiatives become available for investors almost every day. That means that if you want to find upcoming NFT projects, you will have to search and investigate a lot in a fragmented industry.
Where to find Upcoming NFT projects?
The question now is where to find upcoming NFT projects. There are some ways in which you can get access to some of the best information on where to find starting NFT projects. We tell you how to do so.
Go on Twitter
One of the best things to do if you want to find upcoming NFT projects is to create a solid base of accounts on Twitter that share content about NFTs, crypto projects, blockchain technology, and other crypto-related things.
But how can you find reliable accounts to follow to find upcoming NFT projects? One of the best things that you can do is follow accounts with popular PFP pictures. PFP NFTs are NFTs that work as profile pictures and that let investors know that this person has a special interest in NFTs.
Being close to the right individuals might be a good thing for those investors that want to get access to some of the best NFTs in the market.
Famous NFT Twitter Accounts
Read the most important Crypto Blogs on a Daily Basis
Staying up to date about the latest things taking place in the cryptocurrency and blockchain markets is a very important thing for those users that are searching for the best possible NFTs in the world. As we mentioned before, it is quite difficult to have information from all decentralized sources and blockchain networks.
This is why relying on some of the most important crypto blogs on a daily basis will let you get accurate information about the state of the NFT industry. Some of the most reliable crypto sites include CoinDesk and Cointelegraph.
Asian Projects
Asian projects are also becoming a very important part of the cryptocurrency market? But why? There is a reason behind this growth. Cryptocurrencies have been banned in different countries in the Asian continent, however, NFTs remain as an alternative version of digital assets.
Considering that projects cannot release their traditional crypto tokens, they searched for a way to remain active in the market. NFTs became a very important part of the Asian crypto and blockchain industries. If you want to follow cryptocurrency projects in the market, then Asian markets are ready to offer high-quality NFTs.
IDO Launchpads
Over the last few years, we have seen the cryptocurrency market move from Initial Coin Offerings (ICOs) to Initial Exchange Offerings (IEOs) and Initial DEX Offerings (IDOs). This is why we now have several platforms such as BSCPAD or TRUSTPAD that are currently letting users get access to the latest NFT projects in the market.
These decentralized platforms are now offering projects the possibility to release their NFTs through IDOs. Meanwhile, investors can get access to these tokens and purchase them without having to be worried about centralized companies working as middlemen.
Use NFT Aggregator Sites
Finally, a traditional way to find starting NFT projects is by checking NFT aggregator sites. These platforms will add all the information that you should have about upcoming NFT projects and initiatives.
Users would not only be able to find upcoming NFT projects but they would also be able to get the basic information they are searching for about them. For example, they will get details about traits, rarity, and issuance, among other things. Examples of popular NFT aggregator sites are:
NFTCalendar(the first release and event calendar for the growing Non-Fungible Token industry)
Rarity.Tools(website dedicated to ranking generative art and collectible NFTs by rarity)
HowRare.is(Find out rarity of your Solana NFT)
What are Popular NFT Characters?
The NFT market is full of unique and interesting characters that have their own story behind them. But which are these characters that are currently bringing new and fascinating opportunities to investors from all over the world?
Bored Apes
Bored Apes are some of the most popular NFTs in the market. This is a specific collection of 10,000 apes that have been released on top of the Ethereum network. The prices of these apes can go as high as 70 ETH and even more. This is why there has been a large interest in these NFTs.
The Bored Ape Yacht Club is currently among the most exclusive and expensive collections of NFTs in the world. Users that want to have unique access to NTFs would definitely take into consideration this collection. Each of these apes has different traits that make them unique and scarce.
For example, those that have solid gold fur traits will be scarcer than, let's say, brown traits. This is why their price is also higher in the market. Other traits include their hat, eyes, mouth, earrings, and background.
Manga cartoons
Another thing that is worth taking into consideration is the fact that artists have been able to use NFTs as a way to sell their art pieces. We have seen manga cartoon artists release different collections of NFTs that are now being sold on the market as other types of NFTs. Users can get access to them and enjoy their favorite manga cartoons as non-fungible tokens.
These NFTs are also very popular among lovers of Japanese manga and anime. This is why there are some of these NFTs that are currently being sold for very high prices in different marketplaces for non-fungible tokens.
Of course, these are different NFTs than Doodles or Bored Apes, meaning that they are also targeting another type of investor and NFT holder.
Doodles
Another popular NFT collection is the one that features Doodles. These are 10k NFTs that display cats, aliens, apes, and other types of creatures. These cute and colorful NFTs have been designed by Burnt Toast and they have different visual traits. That means that users will see a wide range of colors and combinations when scrolling through this popular NFT collection.
Users can easily hold and purchase these Doodle NFTs using any popular NFT marketplace. The selling point of these NFTs includes their color and simplicity.

Pixel arts
Artists have been given the possibility to create different types of NFTs, including NFTs that are pixelated (that's why Pixel arts got its name). Different art creators were able to create different NFTs that are based on just a few pixels and that display different objects, people, and animals.
These pixel NFTs are now very popular and are among the most popular collections in the market. What's the difference with other NFTs? That these characters were created using a pixel canvas rather than sophisticated graphic tools and instruments.
Final Words
At the time of writing it's a real challenge to find upcoming NFT projects that have potential. Particularly due to the rising interest among new artists, business owners as well as the huge growth of new NFT marketplaces.
In this exclusive article about the rising interest in NFTs a summary of places to go when finding starting NFT projects with quality. In short, one can do the following:
Go on Twitter and follow NFT related profiles
Read popular crypto blogs on a daily basis
Check for Asian NFT projects
Follow IDO launchpads
Follow NFT aggregator websites
---
📣Important: List of top Crypto Projects
🎁 Swapzone: Find the best crypto offer
🚀 Bitsgap: Best Automated Trading Bots
💲 Nexo: Reliable Crypto Lending Platform and get $25 free Bitcoin
***To be Profitable in the markets
---
Disclosure: This post could contain affiliate links. This means I may make a small commission if you make a purchase. This doesn't cost you any more but it does help me to continue publishing cool and actual content about Bitcoin & Crypto – Thank you for your support!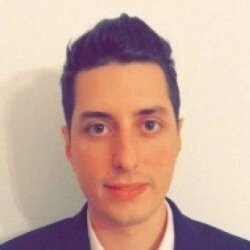 Latest posts by Carlos Terenzi
(see all)