This article explains Proof of Stake(PoS) consensus algorithm. Also, it introduces a new opportunity to earn passive income.
There are different consensus algorithms in the cryptocurrency market that are powering a wide range of crypto assets. Two of the most popular consensus algorithms include Proof of Work (PoW) and Proof of Stake (PoS). In this article, we will explain what cryptocurrency staking is and how Proof of Stake works. Also, we will explain how it can help individuals in the industry to earn passive income on their crypto holdings.
What is the Proof of Stake Consensus Algorithm?
The Proof of Stake consensus algorithm allows cryptocurrencies within decentralized networks to achieve their distributed consensus. This is one of the most important features of networks that rely on distributed ledger technology.
PoS consensus algorithms enable participants to validate blocks of transactions and keep the whole network secure. Miners would be rewarded for their job according to how many coins they hold.
While the Proof of Work consensus algorithm consumes large amounts of energy, PoS networks are much more ecological and efficient considering participants utilize less energy.
Proof of Work vs Proof of Stake
PoW blockchains rely on miners purchasing ASIC machines that process difficult calculus to protect the network and process transactions. PoS blockchains rely on participants staking their coins while being connected to the network.
As new ASIC miners are added to the system, it gets more difficult to mine cryptocurrencies. As a result, companies are forced to purchase more ASIC hardware and increasing their energy expenditures.
The PoS consensus algorithm depends on the investment that interested parties make on the underlying cryptocurrency. The larger the number of coins owned, the larger the stake rewards this participant will receive.
Staking Strategies to Earn Passive Income
As mentioned before, PoS participants get rewarded according to the number of coins a specific user holds in the network. The larger the stake, the larger the reward.
This is why during the last few years, staking became a profitable activity for cryptocurrency enthusiasts and investors in the market.
Individuals can participate in the staking process by holding funds in a cryptocurrency wallet. Furthermore, by participating, they support the whole operations of a specific decentralized blockchain network.
Cryptocurrencies that support Proof of Stake
There are several cryptocurrencies in the market that are currently Proof of Stake. Some of these cryptocurrencies include Binance Coin (BNB), Stellar (XLM), NEO (NEO), Cosmos (ATOM), Ontology (ONT), Decred (DCR) and Qtum (QTUM), among others.
At the moment, different cryptocurrency exchanges are starting to offer staking services. Binance is one of these platforms offering crypto-staking solutions to customers.
For example, Algorand (ALGO) staking registered a yield of 15.58% in the previous staking periods. The estimated annual yield is estimated to be between 12% and 14%.
Cryptocurrency staking : Profitable yields up to 10% annually

Another cryptocurrency that is providing interesting rewards for users is QTUM. This cryptocurrency coin has an estimated annual yield between 6% and 8%. However, the previous yield was close to 4.26%.
These staking rewards are certainly useful for users and individuals that want to earn passive income. On top of this, they are holding their favourite cryptocurrencies.
Cryptocurrency Staking vs Traditional Fixed Income Investments
During the last year, several central banks decided to lower interest rates in order to stimulate economic growth.
In the Eurozone, the European Central Bank (ECB) established negative interest rates considering growth is falling. Also, the Eurozone is a monetary union and inflation remains far from the 2% target.
This has harmed investors, family offices, hedge funds and pension funds that heavily rely on fixed-income investments provided by banks.
Some individual users and larger companies could eventually analyze the possibility of investing in specific cryptocurrencies to earn passive income.
Cryptocurrency niche: A good alternative for acquiring passive income
Currently there are few high-yield fixed-income investment tools in the market. However, the cryptocurrency niche is trying to fill this gap with some very interesting alternatives.
While traditional fixed-income investment tools are usually very safe investment tools, staking cryptocurrencies can have a higher risk.
For example, if staking rewards are too low and the price of the underlying cryptocurrency is in heavy decline. As a result, the investor will lose on its collateral, ending up with fewer funds in USD terms.
The higher the yield for staking cryptocurrencies, the higher the possibilities are investors will be profitable. Nonetheless, digital assets can surge or fall 15% in just a few hours. Hence, higher yields may not be necessarily enough to reduce exposure to volatility in the crypto market.
Binance Staking

Binance, one of the largest cryptocurrency exchanges in the market is currently offering staking solutions. As a result, customers are able to stake cryptocurrencies through a platform called Binance Staking.
Launched a few months ago, these services allow interested individuals to deposit their favourite PoS cryptocurrencies. By doing this, they can receive rewards according to their estimated annual yield.
Some of the cryptocurrencies supported by the platform include QTUM, Stratis (STRAT), Komodo (KMD), VeChain (VET), NEO, ONT and many others.
Binance a cryptocurrency platform that offers crypto staking
One big benefit of this platform is that it offers an easy way to stake cryptocurrencies. In fact, customers who don't have a technical background aren't bothered with the technical side of the process.
The staking rewards are distributed each month to users of Binance staking program. Furthermore, these rewards are calculated on a user's pro-rata share of total balances held by Binance users. In other words, to earn the rewards for cryptocurrency staking, users have to hold their coins an entire month.
This platform has lowered the barriers for users who want to start earning rewards. In addition, it also incentivizes individuals to stake by not charging fees on any of the PoS' operations.
Conclusion
Staking cryptocurrency has been around for a few years now and isn't a totally new concept within the crypto market. Also, staking cryptocurrency was quite a technical adventure in the early days. Binance is the first online platform that makes crypto staking accessible for a greater public.
Currently, the ECB and other central bankers are making it hard to earn a passive income on savings. Binance rewarding its customer's high yields on holding crypto could be the next step in the adoption of cryptocurrencies.
Disclosure: This post could contain affiliate links. This means I may make a small commission if you make a purchase. This doesn't cost you any more but it does help me to continue publishing cool and actual content about Bitcoin & Crypto – Thank you for your support!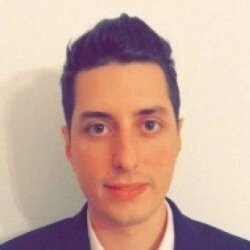 Carlos is an international relations' analyst specializing in cryptocurrencies and blockchain technology. Since 2017, Carlos has written extensively for leading cryptocurrency sites; with over 3,000 articles published.