In this article, an example of the most important uses cases on Ethereum. A decentralized blockchain network that will disrupt traditional markets.
Ethereum (ETH) is one of the most promising blockchain networks in the market. Indeed, it is the second largest after Bitcoin (BTC) and it has a lot of space to continue growing in the coming years.
Its main characteristics, especially smart contracts, and network decentralization make it a great public blockchain network to revolutionize several industries. It will certainly be possible for companies, developers, and individuals to work on several use cases on Ethereum. Mostly for industries such as real estate, global trade and commerce, and asset management, among others.
In this article, we will go through some of the industries in which Ethereum could play a key role. Also, to increase efficiency and add decentralization to processes that were always tedious and troublesome in many cases. Of course, these are only just some of the use cases on Ethereum.
Decentralized Finance
The decentralized finance (DeFi) market is one of the most promising sectors that are now using Ethereum to provide solutions and services to users. While the current financial world is centralized, Ethereum is allowing projects to create their own solutions. In particular by using smart contracts and leveraging the decentralized nature of the network.
Some of the projects that are currently working on top of Ethereum in this sector include MakerDAO, Synthetix, or Compound. These are projects that already handling millions of USD in deposits from users. Furthermore, they are already helping individuals to handle their funds in a decentralized and efficient way.
It is also worth taking into consideration that the first Bitcoin application that has been running for several years is the Lightning Network (LN). However, this is in the 11th position in terms of funds locked after 10 Ethereum DeFi platforms.
This is just one of the examples of use cases on Ethereum and how this network has the potential to continue growing in the coming years.
Asset Management
The asset management industry is also one of the markets that can be certainly improved with the Ethereum blockchain and its transparent nature. Individuals all over the world, including retirement funds, are relying on experts to handle and deal with the money they have.
However, it has been somehow difficult to have data about the way in which funds are invested or how they are handled. This is why blockchain technology, smart contracts, and decentralization could increase transparency in this industry. People and firms want to know how their assets are handled and managed by experts.

Indeed, it is also a matter of security. How do you know your funds are being invested in the assets the asset management company is telling you? This is why having funds handled through the Ethereum blockchain would provide transparency. Also, transparency to the whole process since the funds are sent to the asset manager until they are returned to the owner.
Capital Markets
As we have mentioned before, the entire financial market is highly centralized, and capital markets are not the exception. This is why Ethereum and its decentralized nature can help the entire ecosystem. For instance, to become a much more transparent and efficient industry for users. Also, these users can handle their funds, invest, and understand financial movements.
Joseph Lubin, the co-founder of Ethereum and the founder of ConsenSys, stated about it:
"The trust characteristic of blockchain systems derives from their degree of decentralization. This emerging revolution in the global trust infrastructure – enabled by maximally decentralized blockchain and related protocols – not only will enable us to create orders of magnitude more value faster, but it will also alter the very definition of value going forward."
By using the Ethereum network and implementations that run on top of it, it will be possible for the market to change paper stock certificates and traditional messaging solutions. Moreover, these two features of capital markets have been considered to be revolutionary. Especially, when they were introduced but we may see a new change towards blockchain technology and decentralization.
For example, the Australian Securities Exchange (ASX) has already decided to use blockchain technology to its registry, settlement and clearing systems (CHESS) – which is considered to be a legacy system. This is just one of the many examples there are in capital markets in terms of blockchain adoption.
Global Trade and Commerce
There are several use cases on Ethereum that can apply to global trade and commerce. Additionally, we are making reference to an industry that has been marked by paperwork. Especially, inconsistencies between countries and multiple standards depending on the region.
With blockchain technology and Ethereum, it is possible to improve commerce and global trade. If we take into consideration supply chains and commerce between countries, the benefits of decentralization can certainly be appreciated by consumers.
JD.com, one of the largest e-commerce platforms in Asia, has implemented blockchain technology. All this, in order to track meat and how it moves from the producer until it reaches the consumer in a supermarket.
Users can easily scan with their phones a code that would be placed on the product they've acquired. In addition, it allows them to get all the information about the security measures used. Also, how the meat was treated in the different steps of the commercialization process.
Digital Payments
This may be the most obvious use case on Ethereum considering that it expanded as a means of payments around the world in the last years. Side by side to Bitcoin and Litecoin (LTC), Ethereum is one of the most used digital assets to process payments and send or receive funds.
Why is Ethereum useful for digital payments? First, because it is a decentralized digital asset compared to other solutions currently available. Second, the fees and transaction times are lower than in Bitcoin or other cryptocurrencies. Third, all the information can be controlled, checked and confirmed using blockchain technology.

Ethereum is the second-largest blockchain network in the world and this is something that can be seen in its large community, the number of use cases on Ethereum that have been expanding, and the way in which it helps individuals and companies handle their funds, among other things.
Real Estate
The real estate market can also be benefited by the expansion of blockchain technology. Ethereum can be used not only to make a transaction and pay for a real estate transaction, but it can also help improve the processes in this industry.
For example, by using the decentralized nature of blockchain technology and smart contracts on the Ethereum platform. In addition, it is possible to tokenize real estate assets, reduce costs from process automation, and increase transparency in the whole industry.
Ethereum is already being used by several companies in the world, including RealT. Especially, in order to allow investors and users to get frictionless real estate investment. This is just one of the many companies using the Ethereum platform to improve the real estate market. However, there are many others with their own initiatives and projects working in different regions around the world.
Conclusion – Use Cases on Ethereum
In this guide, we have shared with you some of the most notable use cases on Ethereum. Also, how this blockchain network has been growing and expanding in a wide range of industries. More and more firms know the benefits of using Ethereum and ETH. Also, the online market may realize it in the coming years.
Finally, Ethereum has a lot of growth potential and these use cases are just a small part of the entire market. All in all, Ethereum and its blockchain technology has the potential to change the traditional markets in the coming years.
Disclosure: This post could contain affiliate links. This means I may make a small commission if you make a purchase. This doesn't cost you any more but it does help me to continue publishing cool and actual content about Bitcoin & Crypto – Thank you for your support!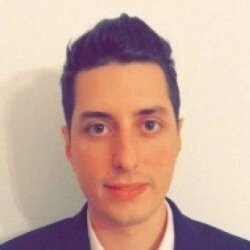 Latest posts by Carlos Terenzi
(see all)