EthicHub uses blockchain technology by offering a crowdlending platform in the agricultural industry. This review will cover the benefits of this platform for farmers and investors.
EthicHub Review: Introduction
Lack of capital to execute business ideas have killed a lot of dreams among entrepreneurs. Also, this lack of capital has prevented us from witnessing many groundbreaking innovations. Most times, all that is needed is a means to bridge the gap between investors and intellectual property owners.
For example, in the agricultural industry, this is a far too common scenario. In fact, many small-scale farmers need funds to expand their coasts but are limited due to difficulty in finding investors. Especially in third world countries where there is no access to banking services (especially in rural areas). Additionally, it is even more difficult for them to get loans. Also, when they can, high-interest rates offered by banks and other loan service providers are usually a barrier.
To expand their businesses, a lot of capital is needed to increase their productivity. For example, farmers must invest in modern equipment, more labor, and land, all of which require a lot of money. Similarly, there are tons of investors on the lookout for opportunities to invest in agriculture. In essence, the only missing piece of the puzzle is a means to link both parties; a gap that EthicHub intends to fill. Moreover, this EthicHub review will cover their plans to fulfill this gap.
About EthicHub
EthicHub is a blockchain-powered ecosystem that serves the purpose of connecting agricultural communities with investors. Additionally, it is a peer to peer crowdlending platform that links 'small unbanked borrowers' with investors in a mutually beneficial manner. For the former, funds gotten from investors can be used to expand operations. Good examples are making land improvements, investing in growth, purchasing supplies, etc while the latter is guaranteed good returns on investment.
Since Ethichub is a peer-to-peer platform, middlemen and their incurred costs are eliminated. Besides, this simplifies the process of getting loans and eliminates the extra costs imposed by middlemen.
Sometimes, agricultural projects are set up by communities, not individuals. Furthermore, they come together and combine resources to achieve their goals. Very often, their resources do not suffice to fund mega projects. As a result, EthicHub's platform aims to provide a support system for these communities. Particularly, because of their needs to improve agricultural yields through projects of this nature.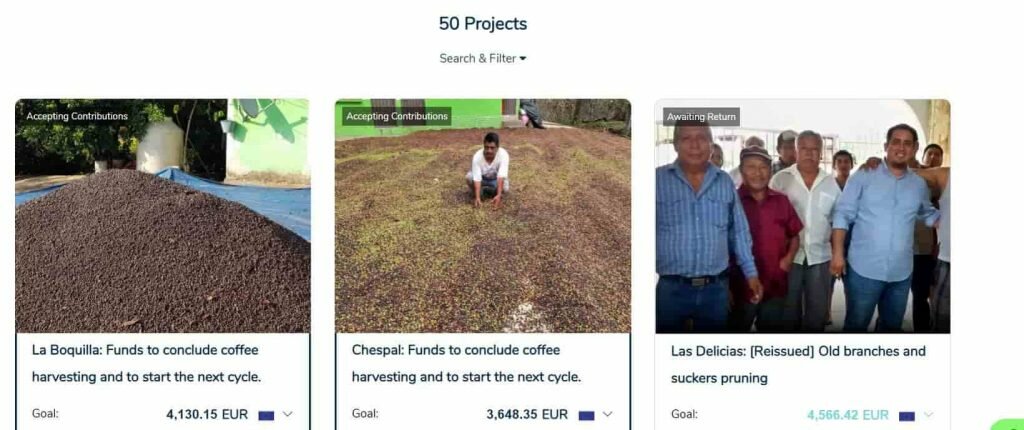 Entry requirements for investing in EthicHub are quite encouraging. With as little as 20 Euros, anybody can invest in profitable agricultural communities. Moreover, these communities exist anywhere in the world and could earn up to 15% return on investment.
Features and Benefits of EthicHub
Connects farmers and agricultural communities with investors
Peer to peer platform that eliminates middlemen
Easy access to loans for funding agricultural projects
Competitive interest rates (up to 15%)
Video review
EthicHub Review: Use Case
San Lingos is a community on the outskirts of Malabo. Also, its lands are very fertile and weather conditions are excellent; this explains why farming is the most common occupation. As a result, most farmers are coffee farmers. In fact, 80% of the coffee produced in the entire country is produced in San Lingos.
The rainy season is the ideal period for sun drying and harvesting coffee. In fact, humid and cloudy days often get in the way of this process. Besides, the only way to bypass this interruption is to make use of a Solar dryer. Also, a solar dryer is very expensive and unaffordable for local inhabitants. Luckily, a tech-savvy resident sets up a funding request on EthicHub. As a result, and within a couple of months, the target was met, and the solar dryer was purchased.
Token economics
Ethix is the utility token for EthicHub.
EthicHub(Ethix) numbers & details
| | |
| --- | --- |
| Total amount raised for ICO | 400K USD |
| Total number of tokens | 50.000.000 |
| Emission rate | No further tokens will be generated |
| Circulation supply | 15.000.000 |
| Token format | ERC20 |
| Nominal price | 1 Ethix = 0.38 USD |
Final Thoughts
The agricultural sector offers opportunities to be seized by the average investor. Furthermore, efforts are being made to fortify food security through an increase in agricultural yield. Finally, the funds are being solicited to actualize these projects.
EthicHub demonstrates again how blockchain technology can play a vital role in agriculture. Additionally, with its p2p feature, funding agricultural projects just got easier. In particular, farmers and agricultural communities can now get loans for projects through EthicHub. Also, investors can contribute their quota towards agricultural development while earning a fair return on investment. To summarize, EthicHub uses blockchain technology to improve peer-to-peer lending which is a great initiative.
Information and resources
Disclosure: This post could contain affiliate links. This means I may make a small commission if you make a purchase. This doesn't cost you any more but it does help me to continue publishing cool and actual content about Bitcoin & Crypto – Thank you for your support!
Passionate about modern disruptive technologies and their impact on diverse aspects of human life. He has a wealth of experience in blockchain content creation and community management. Also he has written topnotch article reviews and whitepapers for several STOs and ICOs.
Latest posts by Daniel Okorafor