In this article, a quick explanation of Bitcoin and crypto exchanges. Also, the best options are given to purchase Bitcoin without a bank account.
Bitcoin (BTC) and cryptocurrencies became really popular in the last decade. In fact, popularity rose due to many of their characteristics and also because they experienced massive price increases. Nowadays, it is easier, faster and cheaper to process a transfer using cryptocurrencies rather than traditional means of payments.
Due to this reason, many users and individuals have been trying to purchase Bitcoin. As a result, the entire crypto industry witnessed inflow of many new investors and companies. How to buy this mighty digital currency? The easiest and fastest way to do so is by installing a local wallet on your computer or smartphone. Secondly, you can open an account at a cryptocurrency exchange.
Cryptocurrency exchange vs cryptocurrency wallet

If you are a beginner, it is important to understand that wallets are not the same as exchanges. Although cryptocurrency exchanges can offer you the possibility to store virtual currencies a wallet has many other functionalities. In the first place, a local wallet allows you to be sure your funds are secure and safe.
A cryptocurrency wallet would give you full control of the virtual currencies you own. In other words, you can only send funds over the network, because you control your private key.
On the other hand, there are cryptocurrency exchanges that offer you to trade cryptocurrency. Additionally, these exchanges offer you a crypto wallet to store the Bitcoin. Meaning to trade cryptocurrency you have to store it on their platform which is less secure.
Cryptocurrency exchanges need your private data
Also, if you decided to purchase Bitcoin at an exchange, this is going to be certainly straightforward. However, there is a problem with this option. You will have to provide private information to be compliant with KYC regulations. In the last years, Know-Your-Customer (KYC) regulations expanded around the world pushed by regulatory and governmental agencies.
Exchanges must be compliant with them if they want to keep operating in the market. In several crypto platforms, you will have to provide the personal details before signing up. For example, your bank account, but also passport information and home residence. Accordingly, this is private data that we do not want to share with an institution we do not trust. In the next section, we will explain some of the options available to buy Bitcoin without owning a bank account.
Options For Buying Bitcoin Without Having a Bank Account
The market has come up with a wide range of solutions for users that want to have access to the cryptocurrency industry without having to use a bank account.
Ask a friend who owns Bitcoin
The first solution is to ask a friend to sell you some Bitcoin and pay for the transaction using cash. This can be done face-to-face, considering you know your colleague. Clearly, this is a very easy solution. If you own a crypto wallet and your friend holds some BTC, he can sell you these coins for a cash payment. This is a fast, easy and safe solution for you to enter the crypto space.
Buy Bitcoin at an ATM
A second solution is provided by Bitcoin ATMs. While we already know how to use traditional ATMs to withdraw cash or deposit funds, Bitcoin ATMs are machines that are installed in diverse points such as restaurants or shopping centers and allow users to buy – and sometimes sell – Bitcoin and/or other cryptocurrencies.
This is a very functional way to purchase or sell Bitcoin. In most cases, you would not have to provide private information. Nonetheless, some countries are already increasing their controls and requesting users to provide an ID when they use these Bitcoin ATMs. The most important cities around the world have installed at least one Bitcoin ATM machine.
At the same time, Bitcoin ATM operators are usually charging high fees for the operation (generally between 5% and 12%). You need to also be aware that if you sold Bitcoin or digital assets there could be someone following you.
Buy Bitcoin with a credit card
As mentioned before, purchasing Bitcoin through an exchange is the easiest way to do so, although in many of them you can buy Bitcoin by linking your bank account, you can also use a credit or debit card to access the market and send funds to the platform. Exchanges such as Binance have partnered with market leaders, allowing them to offer credit and debit card deposits. Coinbase is also offering similar solutions for users that want to avoid using a bank account.
Use peer-to-peer platforms
Finally, peer-to-peer platforms are also very useful to purchase Bitcoin and other cryptocurrencies. Indeed, some service providers such as Paxful or LocalBitcoins have been offering P2P services to clients from all over the world.
With LocalBitcoins it was possible to buy and sell Bitcoin to other interested users and pay with cash. However, things have changed a few months ago and the requirements to purchase Bitcoin changed.
With Paxful, for example, you can use PayPal, debit and credit cards, skrill, iTunes gift cards, and Amazon gift cards to pay for the Bitcoin you buy from other users. According to the region in which you are located there are going to be different means of payment to acquire Bitcoin through Paxful.
Conclusion
By entering a new era starting with 2020, the internet population is still on the rise. In fact, people who live in countries like India or China still don't have full access to the online web yet. Similarly, a lot of these people also don't own a bank account or are living very anonymously compared to the western world. When they buy their first mobile device it will also the first time these people go online. Also, with Bitcoin being the currency of the internet it is a big chance these people will embrace this technology.
If you do not own a bank account or you do not want to link it to crypto-services providers there are several platforms that are already offering solutions to users to have access to the crypto space, Bitcoin and cryptocurrencies. One of the simplest options is through a P2P platform or using a Bitcoin ATM.
Disclosure: This post could contain affiliate links. This means I may make a small commission if you make a purchase. This doesn't cost you any more but it does help me to continue publishing cool and actual content about Bitcoin & Crypto – Thank you for your support!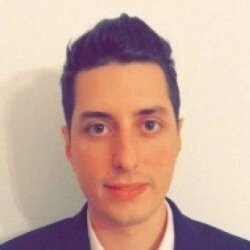 Latest posts by Carlos Terenzi
(see all)