This guide explains 3 best ways to transfer ETH to Polygon in the cheapest way possible. Subsequently, this will give you a headstart when shopping NFTs on OpenSea.io.
Are you into shopping NFTs on OpenSea.io, but are you also tired of the immense fees the Ethereum network is charging? Or are you new to crypto with not much ETH available and finding the traditional Polygon bridge too expensive for small amounts?
I think you are at the right place here. Moreover, this guide will give you several options to transfer ETH to Polygon in the cheapest way possible. However, to realize this you have to take several steps into DeFi which can be quite hard for the starting crypto or NFT collector.
Best ways to transfer ETH to Polygon
In short, to start collecting NFTs on Polygon the cheapest way possible you have two options
Use a centralized exchange(CEX) to trade ETH for Matic and use Polygon afterwards
Connect Metamask to Narni Bridge and transfer ETH to Polygon
Before we take off in the different options and steps getting the cheapest way to buy NFTs on Polygon; first some general information about Polygon and NFTs.
Why choose Polygon for shopping NFTs instead of Ethereum?
As stated above trading ETH for NFTs on a platform like OpenSea is very expensive and currently only available if you are a wealthy crypto investor. Of course, if you know a very promising NFT project that uses Ethereum, swapping tokens there can be very profitable. Subsequently, having high fee costs upfront can be worth it in the end.
On the other hand, many new crypto enthusiasts are entering this NFT market on a daily basis and are willing to trade NFTs on other crypto platforms. As a result of this, several new crypto networks like Polygon are showing huge growth in trading volume as well.
So why should you use Polygon instead of Ethereum when shopping NFTs? Firstly, transactions on Polygon are very cheap where you pay 10 times less in gas fees. Additionally, the OpenSea platform also connects to Polygon where you can keep the same user experience.
Another reason to use Polygon for NFTs instead of Ethereum is the fast processing of transactions. Because Polygon uses a different consensus mechanism called Proof-of-Stake it doesn't require to use of electricity mining.
Instead of hardware miners to handle transactions Polygon uses delegated staking or locking coins(wallets) at many different nodes over the entire network. Indeed, this way of handling transactions has two main benefits:
the Polygon network is easy to scale(10000 TPS*)
zero waste of electricity and therefore sustainable for the environment
* TPS: Transactions per Second
Polygon vs Ethereum: Transactions & Costs
| | | |
| --- | --- | --- |
| ☑️Event | 💰Ethereum | 💰Polygon |
| Transfer ETH | $3,25 | $0,0000375 |
| NFT transfer | $7,70 | $0,0000885 |
| ETH(ERC-20) swap | $20,00 | $0,000230 |
| Add liquidity | $21,50 | $0,000250 |
| Sign up at OpenSea.io | $60,00 | $0,000700 |
The value of costs are at the time of writing but can change over time
---
Cheapest options to transfer ETH to Polygon
Again, as explained earlier the gas fees on the Ethereum network can be outrageous, and therefore it's wise to look for a cheaper alternative when shopping NFTs. The options summarized below are divided into two popular cryptocurrency exchanges(CEX'es) and a cross-chain bridge(smart contract).
#1. Use Binance
The first option that can be used in transferring ETH to Polygon is Binance. Binance is a popular cryptocurrency exchange among traders on a global scale. Also, based on daily(24h) trading volumes, Binance is the biggest cryptocurrency exchange in the world.
As a result of this, it is very easy to trade ETH for fiat or another cryptocurrency, which you should do as well at this point. How to do this?
I'll assume that you have ETH in Metamask or at another place(wallet or crypto exchange). Particularly, the idea is that you have to send ETH to Binance and then trade this ETH for MATIC tokens. In addition, you can withdraw MATIC from Binance to a regular Polygon wallet.
Why? Well… MATIC is the token that resides on the Polygon network and can therefore be used to trade NFTs on the Polygon blockchain. By doing this you avoid the high transaction fees for transferring ETH to Polygon and you can use the speed of the Polygon blockchain straightaway.
How to get ETH on Binance
First, you need to know how to get ETH on Binance in the first place. Here are the simple steps:
Create a

free account at Binance

Go to 'Wallet' and then choose 'Overview'
Next click on yellow 'Deposit' button
Now choose 'Deposit Crypto'
Select ETH as coin
Give for Network 'Ethereum(ERC20)'
An ETH wallet address will automaticly be generated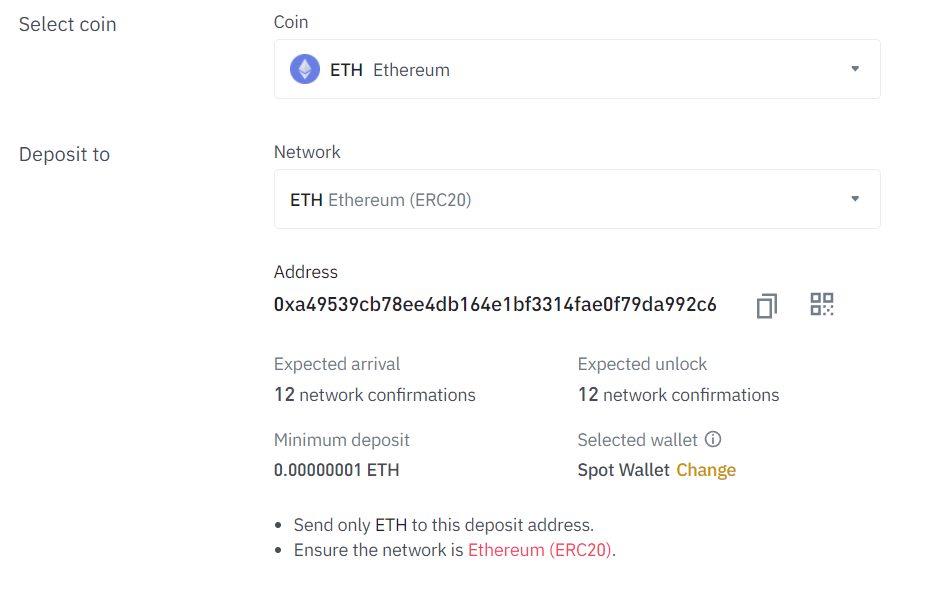 Finally, you can use this ETH wallet address to send your ETH to when using your Metamask wallet.
Remember, this guide is not focused on how to trade cryptocurrency at Binance. Therefore, I'll assume that you have some experience in dealing with a regular trading engine. If not, read this trading guide for beginners at Binance first.
What are the next steps from here? As mentioned earlier, you need to swap your deposited ETH for MATIC tokens. At Binance you have several options for doing this and I'll leave this to you.
After the trade ETH to MATIC has taken place, you need to withdraw these MATIC tokens to a Polygon wallet. Additionally, you can use your Metamask wallet for this where you just have to add Polygon as a new network. More on this can be found here.
At this stage, you are ready and set for shopping NFTs on Polygon 💪
#2. Kucoin
The Asian crypto exchange Kucoin is another option that can be used to transfer ETH to Polygon in the cheapest way possible.
Compared with Binance described above, Kucoin is probably a modern platform for trading any cryptocurrency. In addition, this platform was founded by a group of cryptocurrency enthusiasts from Asia aiming to offer comfort and security to your mighty assets.
As of writing the platform ranks at position 12 on the list of exchanges which is based on trading volume for the past 24 hours. Similarly, the platform specializes in offering trading cryptocurrencies, margin trading, trading futures, and also staking cryptos.
One of the main reasons that I'm mentioning Kucoin in this guide is that you can deposit crypto here very easily. Moreover, crypto deposits can be done at speed and without the need for KYC(< 1 BTC).
The process for getting ETH on Polygon is the same as when dealing with Binance and I won't go into detail by describing the depositing process again. In general, the process on Kucoin will be:
Deposit ETH to Kucoin(

free account here

)
Trade/swap ETH for MATIC
Withdraw MATIC to a Polygon wallet
Remember that when withdrawing MATIC to a Polygon wallet you can use Metamask for this: you just have to add the Polygon Mainnet as a new network. More on this can be found here.
#3. MetaMask: Send ETH to Polygon with Umbria Narni Bridge
Are you already in the possession of ETH in your Metamask wallet? At this stage, you don't need a centralized exchange like Binance or Kucoin to trade for MATIC tokens. Instead, there is a very cheap option that allows you to sent your ETH to Polygon(WETH) by using a cross-chain bridge.
In short, a cross-chain bridge is an elegant solution in the entire blockchain space that allows you to transfer tokens from one blockchain network to another. In this specific example, the Umbria Narni Bridge allows you to transfer ETH to Polygon and vice versa in just a few clicks. Below are the necessary steps:
Connect to Bridge
Make sure you visit this Url: https://bridge.umbria.network/
Click on 'Bridge Assets' in the upper menu. After doing this your Metamask wallet will automatically be connected to the Ethereum Mainnet and you are ready to start using the bridge.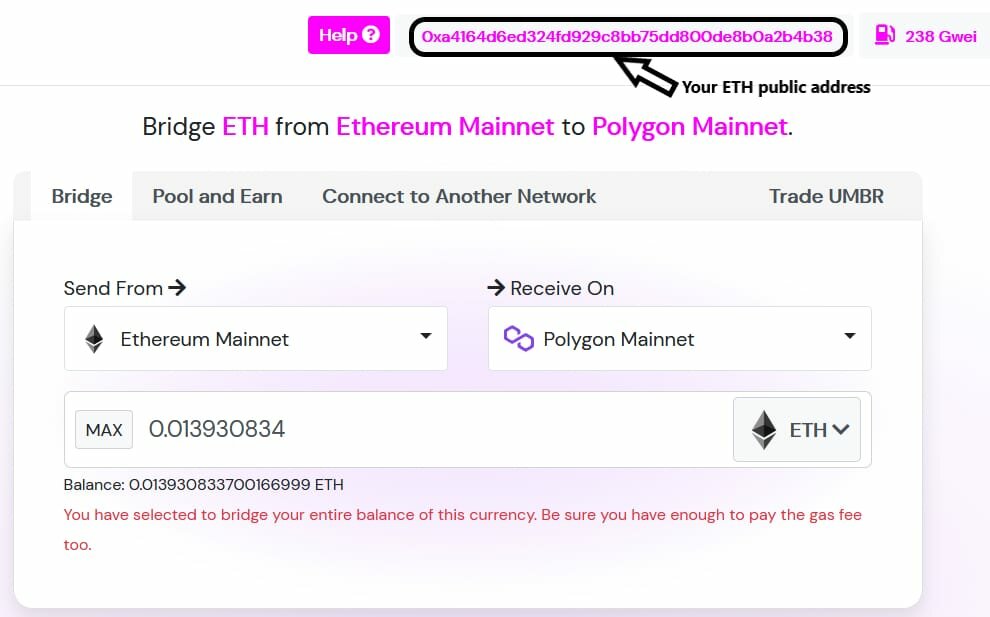 As an example, I'm going to send my whole ETH balance on Metamask(0.138 ETH) to Polygon blockchain. Additionally, you can see that the calculated fees are very low where I only have to pay 0.0001 ETH(about $0.31 😊) in fees to the network.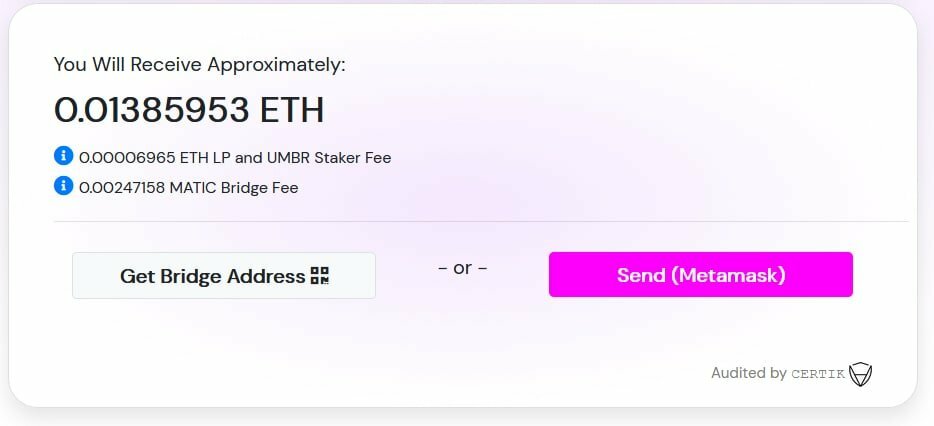 Ultimately, the fees you have to pay are divided into two parts:
0.2% will be deposited to liquidity providers($UMBR token)
0.1% on-chain transaction fee for the blockchain you want to use
Transfer ETH
At this point, you are ready to send ETH to the blockchain network you wish which in this case is Polygon. The way this works is that I'm going to send ETH and convert it to WETH on Polygon Matic.
To do this I have to confirm this transaction with my Metamask wallet by clicking 'Send(Metamask)'. Besides, make sure you leave some ETH in your wallet to handle the gas fees on Ethereum.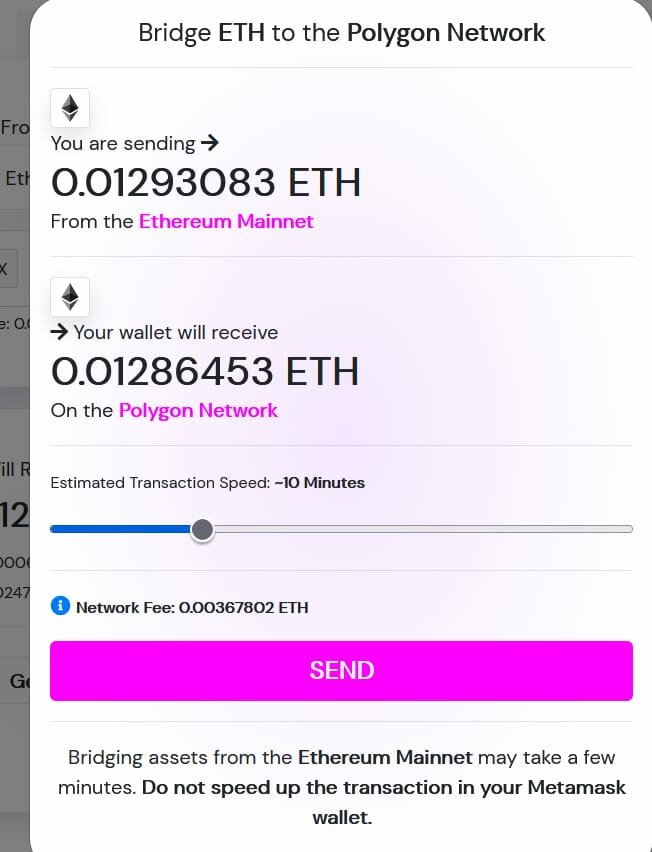 As you can see the total fees for bridging assets using Umbri Marni Bridge are 0.0036 ETH which is approximately 11 USD. Also, the transaction will be transmitted in about 10 minutes which is very fast.
Finalize this transaction by sending ETH to Polygon.
Remember that the additional fee of 0.0035 ETH comes from the Ethereum network for handling transactions in your Metamask. In fact, if you only take into account the fees handled by the Marni Bridge only, it charges you $0.35 which is one of the cheapest ways to transfer ETH to Polygon.
Why are transaction fees on the Narni Bridge so low?
Particularly, The Narni bridge works by replacing the on-chain validation protocol, which relies on an extremely computationally expensive process, with a liquidity pool protocol. Meaning, there is a liquidity pool on the networks on both sides of the transaction.
For instance, if you sent funds into the liquidity pool on the starting network the bridge sends their funds immediately back to you from the liquidity pool on the destination network. A small fee is paid by you who are migrating assets, of which a percentage is given to liquidity providers of the bridge on the destination network.
All in all, this modern and innovative bridging functionality leads to ultrafast transactions with extremely low fees 👍
How to use Polygon for shopping NFTs if you don't own ETH yet?
Are you still interested in trading NFTs but don't own any crypto(ETH) yet? In that case, you have to start at the very beginning which is buying crypto with fiat(USD or EURO). Also, you want to avoid burning your money on high ETH gas fees when dealing with NFTs on Ethereum.
Consequently, the cheapest way to trade NFTs will be to buy MATIC right away. Therefore, it's best to sign up at a crypto exchange like Binance or Kucoin to start your journey.
Choosing the right exchange depends on your location in the world and maybe the fiat currency you have to deposit. To summarize, what are the steps if you need to buy crypto first? In short the process:
Swap USD/EUR for Bitcoin(BTC)
Trade BTC for MATIC coins
Withdraw MATIC to Polygon wallet
Start trading NFTs on Polygon
Final words
Shopping NFTs on the Polygon blockchain is a very good alternative if you want to avoid paying high gas fees on Ethereum. Also, OpenSea.io, the popular NFT trading platform, has enabled trading NFTs on Polygon.
Remember that the Ethereum blockchain network remains dominant and popular in the mainstream world. Therefore, it's totally up for you to decide if it's worthwhile paying high gas fees on Ethereum or start using the fast and cheap Polygon network for trading NFTs.
Finally, the 3 options described in this guide can help you by finding the best way to transfer ETH to Polygon when needed.
---
📣Important: List of top Crypto Projects
| | |
| --- | --- |
| 🌍 Search engine(Earn crypto[PRE] while searching) | Presearch |
| 📈 Find the fastest rising crypto's | Arisingcoins |
| 🚀 Best DeFi project(>1 million holders) | Safemoon |
***To be Profitable in the markets
---
Disclosure: This post could contain affiliate links. This means I may make a small commission if you make a purchase. This doesn't cost you any more but it does help me to continue publishing cool and actual content about Bitcoin & Crypto – Thank you for your support!

Latest posts by Jelmer Steenhuis
(see all)