This article covers in detail the purpose of stablecoins by giving 7 reasons why stablecoins exist and the popularity among crypto enthusiasts.
Stablecoins are some of the most useful digital assets in the cryptosphere. There are different reasons why stablecoins exist, and we will cover all of these reasons in this article. The basic purpose of stablecoins is to offer crypto users a way to avoid volatility while handling digital assets.
Nevertheless, there are more reasons related to why stablecoins exist. At the moment, some of the largest stablecoins in the world include Tether (USDT), USD Coin (USDC), and DAI, among others.
Reason 1 – Stablecoins Are Used to Get Rid of Volatility and Price Instability
As you may know, digital currencies are very volatile. We have heard how Bitcoin (BTC), the largest cryptocurrency in the world moved from just a few hundreds of dollars some years ago to $20,000 in December 2017. However, the digital asset then reached a low of $3,200 a year later.

If you would have held Bitcoin during all this time you would have seen your portfolio moving to massively high values. Nevertheless, they still fell over 80% in less than a year. Thus, developers and companies decided to offer a new solution to users to get rid of volatility and price instability.
If you were an investor and you considered that $20,000 was a good price to exit BTC, then you would have sold and get into a stablecoin. Stablecoins are usually tied to the price of a fiat currency and do not experience price fluctuations. Although their price can move a few cents above or below the pair, the price remains very stable.
In this way, investors can hold stablecoins and remain invested in virtual currencies. These stablecoins can be withdrawn to a crypto wallet, sent and received as a digital asset or even exchanged for other virtual currencies.
Reason 2 – USDT Stablecoin Uses Ethereum and Has Faster Transaction Times than Bitcoin
Tether (USDT), the third-largest cryptocurrency in the world and the largest stablecoin in the market, is one of the most traded virtual currencies. The reason behind this is related to the fact that it is based on the top of Ethereum.
The USDT coin can be used to send and receive funds in a faster way than Bitcoin and other virtual currencies. Moreover, as the price of Tether is pegged 1-to-1 to the USD, its price is always $1. That means you can send and receive funds knowing you will get what you were waiting for. At the same time, sending and receiving USDT is going to be faster than sending and receiving Bitcoin due to the way in which the Ethereum network works (it is much more efficient than Bitcoin).
Instead, if you would use Bitcoin, your transaction will be processed in a longer period of time and the transaction fees are also going to be higher. Furthermore, as the price of BTC in USD terms fluctuates every single minute, you may receive more and sometimes fewer funds than what you were expecting to get.

Reason 3 – Stablecoins Are Pegged to the Price of Fiat Currencies
Stablecoins are digital currencies that have a stable price. It does not mean if they are tied to the U.S. dollar or to another currency such as the Euro, they will be always worth the same in nominal value.
For example, we have Tether that is pegged to the USD. But there are other stablecoins such as EURS, a EURO pegged digital asset. This coin mirrors the value of the euro on top of blockchain technology. There are already several exchanges all over the world that are using the EURS digital asset.
Binance, one of the largest cryptocurrency exchanges in the market has also created its GBP Stableoin that is called BGBP. This coin is pegged to the British pound at a rate of 1 BGBP to 1 GBP. According to Binance, the BGBP is backed by the same amount of GBP held by Binance in a bank account.
DAI, another popular stablecoin, is not backed by USD but instead, it is backed by other virtual currencies. Although DAI has a stable price tied to 1 USD, there are no USD backing its value but there are other virtual currencies.
Reason 4 – Stablecoins can be Used to Earn Interest
If you are asking yourself why do stablecoins exist, then you have another reason here. One of the main purposes of stablecoins is to provide users with a stable value that would allow them to keep in virtual currencies without having to be worried about volatility.
If you want to know more about earning interest or additional passive income then there is more. Read the article we wrote about crypto lending vs staking. It explains very clear two very popular passive income strategies in the crypto industry.
However, this is not the only reason. Indeed, stablecoins can also be used to earn interest on your money. Nowadays, central banks established interest rates close to 0%. That means that your savings are not generating income for you. In the past, when central banks had higher interest rates, it was possible for individuals to have around 2% to 3% interest per year.
Nowadays, this is certainly impossible. This is why there are some cryptocurrency platforms, centralized and decentralized, that are offering investors to place their stablecoins to earn interest. Users will be able to borrow their USDC, USDT, or DAI (among others) to earn larger interest rates that range between 2% to 12%. This, the purpose of stablecoins for many investors could be that of investing them to earn some profits.
Some of these platforms include Nexo.io, Celsius or Blockfi, among others.
Reason 5 – Stablecoins Have Very Low Transaction Fees
As we have mentioned before, stablecoins have faster transaction times than Bitcoin and they are also cheaper to use. This is because they run on top of different blockchain networks, such as Ethereum or Binance Chain. This makes it easier for users to send and receive transfers compared to Bitcoin.
Why do stablecoins exist? There are many reasons related to why stablecoins exist. Indeed, using them to perform cheap and fast transactions is just one purpose of stablecoins.

Tether, for example, is running on top of Ethereum, something that makes it easy for users to exchange, send, receive, and also hold. You can simply use an Ethereum address and start receiving USDT. Also, you can simply send them if you already have some stablecoins in your wallet.
Transaction fees are very small compared to Bitcoin. BTC transactions are sometimes as high as $1 or even higher. Instead, USDT transactions can cost just a few cents rather than dollars. Nevertheless, if the Ethereum network is congested, it may be somehow expensive to use ERC-20 stablecoins.
Reason 6 – Stablecoins are Programmable and Can Be Used With Smart Contracts
Stablecoins have a very large advantage compared to Bitcoin, it is possible to use it with smart contracts. That means that you can use ERC-20 tokens, which run on top of Ethereum, on decentralized finance and decentralized applications.
The DeFi market has been expanding in recent months and stablecoins are playing an important role in helping users enjoy some of the benefits of this fast-growing industry. Stablecoins, as they are built mostly on Ethereum can be used to run with smart contracts.
Ethereum is known for being programmable money. This is why stablecoins can also be used with smart contracts to leverage decentralized finance and its services. Its low fees and fast transaction times can also be a good thing to take into consideration when we use smart contracts and stablecoins.
Reason 7 – Cryptocurrency Exchanges Favour Stablecoins as a Medium of Exchange
Cryptocurrency exchanges all over the world have been adding support to stablecoins rather than fiat currencies. The first issue exchanges face is related to legal issues of holding and transacting fiat currencies.
Stablecoins, instead, are easy to be implemented because they do not require bank accounts. Indeed, they can be easily implemented as Ethereum (ETH) or other digital assets. Thus, the technical aspects of implementing stablecoins in exchange platforms are easier than using fiat currencies.
Finally, you can find platforms that instead of having USD or EUR pairs have implemented USDT and EURS trading pairs. Nowadays, USDT, for example, has a larger trading volume than Bitcoin. This is something that we should take into consideration in terms of liquidity.
Infopic: Reasons for Stablecoins

Summary: The Purpose of Stablecoins
In the next sections, we are going to share with you how safe are stablecoins, how many stablecoins are there in the market, and how you can make money on stablecoins. We have already analyzed why do stablecoins exist and what is the purpose of stablecoins.
How safe are Stablecoins?
Stablecoins are as safe as other virtual currencies. That means that they will follow the same standards as Ethereum (ETH), Binance Coin (BNB) or other digital currencies. However, we need to also take into consideration that these stablecoins are backed, in many cases, by real fiat currency deposited in bank accounts.
The risk related to stablecoins is that the company issuing one of these coins could go out of business. If that happens, or if the community discovers that there are no enough collateral to back 1-to1 the stablecoin, its price may fall. That means that the stablecoin will lose its pair and it won't work anymore as it was expected to work.
In terms of technology, most of the stablecoins, USDT, BUSD or USDC follow market standards. Meaning that they work with crypto wallets that are cryptographically protected. In addition, it allows users to hold their private keys if they desire to do so. As long as the private keys of a specific wallet are properly stored, there shouldn't be issues in terms of security or safety.
Nonetheless, if you are depositing stablecoins in a centralized platform such as an exchange, then you are giving the custody of your coins to a third-party. The safety of your coins may be compromised if the exchange is targeted by hackers. Unfortunately, there have been many attempts of hackers trying to break into their system and steal funds.
How Many Stablecoins are there?
There are dozens of stablecoins in the market. The list of stablecoins includes Tether (USDT), USD Coin (USDC), TrueUSD (TUSD), Dai (DAI), Paxos Standard (PAX), Binance USD (BUSD), Husd (HUSD), Stasis Euro (EURS), USDK (USDK), Neutrino USD (USDN), Binance GBP (BGBP), eToro Pound Sterling (GBPX), and many others.

These are just a small list of all the stablecoins that there are in the market. Additionally, there are many others in the market. Meaning that you must do your own research and get the stablecoin that will definitely fit and adapt to your specific needs.
Take into consideration that not all these stablecoins are going to be working in the same way. Some of these are going to be safer than others. Thus, take your time to investigate which have been recognized, which are regulated, and which have been in the market for a long period of time.
Can I Make Money on Stablecoins?
Yes, you can make money on stablecoins. As we have shared before, one of the main purposes of stablecoins is to allow users to earn interest on them. You can deposit the funds and lend them to borrowers that require USDT or other stablecoins. You will definitely earn a juicy reward after the investment you do.
Furthermore, you can use them to trade in the cryptocurrency market as you would do with dollars. With stablecoins, you can acquire Bitcoin, Ethereum, Litecoin and a many other coins. If you are a good speculator, you can make some profits with stablecoins if you use them to trade digital assets.
In addition to it, you can also use stablecoins to invest in other firms and companies. For example, some firms are looking for investments to develop their products or services. Although these investments are very risky, they can be performed using stablecoins.
Finally, you can use your stablecoins to provide liquidity to crypto pools in the DeFi market. Particularly, it requires users to deposit funds and guarantee liquidity to borrowers.
Holding stablecoins in a wallet without moving would not allow you to earn rewards or make money on them. Therefore it is wise to find platforms that are offering you the possibility to invest using stablecoins and other coins.
Conclusion
All in all, we have to conclude that stablecoins do have a purpose in the cryptocurrency industry. Moreover, this is certainly something not to underestimate. As long as fiat currency exists stablecoins are continuing to keep playing a decent role in the entire market. Therefore, stablecoins are a handy tool to lock in profits or earn passive income. Happy investing!
Disclosure: This post could contain affiliate links. This means I may make a small commission if you make a purchase. This doesn't cost you any more but it does help me to continue publishing cool and actual content about Bitcoin & Crypto – Thank you for your support!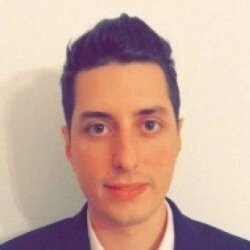 Carlos is an international relations' analyst specializing in cryptocurrencies and blockchain technology. Since 2017, Carlos has written extensively for leading cryptocurrency sites; with over 3,000 articles published.