This 101 guide covers all ingredients according to Tezos. Also an answer to the question 'Should I Invest in Tezos' and future price developments.
Tezos (XTZ) became one of the most promising and potentially revolutionary cryptocurrencies and blockchain networks in the market. The team behind Tezos has been doing a great job facing several challenges and growing an ecosystem that has been adopted by many large companies in the crypto market.
In this Tezos 101 Guide, we will be sharing with you all the necessary information you should have about the XTZ virtual currency and the Tezos ecosystem. Firstly, we will be going through Tezos' main characteristics. After that, we will do a complete summary of the most important things about it. Finally, we will analyze whether investing in Tezos is a good thing to do.
Disclaimer: All the information provided by this post should be considered for educational purposes only. Nothing provided by the writer of this article is considered to be investment advice. Never invest more than what you are able to lose and always contact your financial advisor.
What is the current price of Tezos(XTZ)?
Below is the table that shares all actual data of the Tezos cryptocurrency. First and foremost, it will give you the actual price(updated once every 24 hours), also it will give you some extra specifics about the network including total market cap and circulation supply of coins.
Current Tezos price(24 hours)
| | |
| --- | --- |
| Tezos(XTZ) price | $0.80(-0.12%) |
| Total market cap | $755,785,361 |
| Circulating supply of coins | 948,698,663 XTZ |
| CMC ranking | 54 |
*CMC ranking: Ranking of the Tezos project on Coinmarketcap website
What is Tezos and Why is it Important?
Tezos is a blockchain platform that was launched to the market a few years ago. In addition to that, it allows companies and developers to run decentralized applications (dApps). Moreover, users can also run their own smart contracts in a similar way they can do with other blockchain platforms in the market.
One of the main characteristics of the Tezos network is related to the way in which it is governed. Blockchain networks are generally decentralized in the crypto market, however, it is not easy to create an effective governance system.
Tezos works with an on-chain governance solution that allows the network to progress and its participants to decide which are the main features they want to add, change or delete from the Tezos ecosystem. In this way, the popular measures will be approved and the unpopular solutions and proposals will be rejected through a decentralized voting system.
Who created Tezos?
Tezos was created back in 2017 as an Initial Coin Offering (ICO). At that time, many people wanted to invest in Tezos due to the promises it was making as a project. It is worth mentioning that there were thousands of Initial Coin Offerings launched in the market in 2017 due to the ICO craziness.
The network was mainly developed by Arthur Breitman, who received the technical support from Kathleen Braitman, his wife. They were able to gather over $230 million of U.S. dollars that were used to build the Tezos beta – which got launched in July 2018.
Due to some issues that were affecting the team, the Tezos ICO took some more time in order to be released to the market. Many analysts considered that the XTZ tokens were not going to be worth anything and that Tezos was going to be abandoned. Nonetheless, Tezos has become the 12th largest virtual currency in the market with a valuation of $1.74 billion at the time of writing.
Is Tezos Better than Ethereum (ETH)?
If you want to invest in Tezos, it is normal that you ask yourself whether this network is better than Ethereum. The main difference is obvious and it's related to the fact that Tezos was created after Ethereum. This could be positive in some way because developers behind Tezos could just use technology that had already been tested.
However, Ethereum is an already established cryptocurrency with a safe and clear second position in the market. Also, it comes right after Bitcoin (BTC) and with a wide range of projects, organizations and companies working on top of this network. Thus, Ethereum's advantage over Tezos is related to its longevity in the space and how it has been evolving over time.
Tezos can certainly continue expanding faster than Etheruem and use its growth potential to produce higher returns for those that are investing in this virtual currency.
Does Tezos Have a Future?
It is very difficult for digital assets that have been among the top 10 or close to falling and be forgotten. Of course, there are some cases of digital assets that disappeared even when they were among the top ten, but the possibilities are low.
Tezos is now a blockchain network that has surpassed large projects. For instance, Chainlink (LINK), Stellar Lumens (XLM), Tron (TRX), and even Monero (XMR), the largest privacy-focused coin in the world.
Tezos can certainly become a leader in the market showing its governance model could be a good alternative for those that want to buy Tezos. The larger the time it continues operating in the market, the more difficult it could be for Tezos to fall.
Even if a bug is found, the Tezos community could have enough resilience in order to overcome the challenges and move forward.
Is Staking Tezos Profitable (What is Liquid Proof of Stake)?
Tezos works with a slightly different Proof of Stake (PoS) consensus algorithm. The main feature of the Liquid Proof of Stake that Tezos is currently using is allowing the network to minimize the dilution of small token holders and promote decentralized governance.
On the Tezos network, the delegation of tokens is optional. In addition, it makes it easier to facilitate token holder coordination and also accountable governance in the whole ecosystem. The activity of staking XTZ tokens is called baking and it is already providing bakers with profits.
According to analyst Jacob Arluck, Tezos works in a way similar to a "proof os take with delegation."
On the matter, he stated:
"In fact, Tezos' flavor of proof-of-stake is more akin to "proof-of-stake with delegation" than it is to dPOS. To resolve the confusion and better describe proof-of-stake in Tezos, I propose we begin to call the Tezos consensus mechanism "Liquid Proof-of-Stake", or "LPOS"."
Invest in Tezos: Video explanation of LPOS
How many Tezos do you need to Stake?
Users that want to stake Tezos will first have to acquire some XTZ that would allow them to participate in the network. Users can start staking their XTZ starting from 10,000 or use a delegating service. At the time of writing, 10,000 XTZs are equal to $23,700.
Nonetheless, there are several companies and blockchain services that are currently allowing users to stake XTZ without reaching the minimum amount. This is because these firms gather a large number of XTZ and start staking them all together.
Coinbase, Binance, and Trust Wallet are some of the platforms that are already allowing users to stake their XTZ accounts.
Baking is just another way of saying staking if you were wondering about it.
Is it worth investing in Tezos?
At the moment, if you want to invest in Tezos, you will receive 8.25% if you hold 10,000. Nonetheless, the services and firms we have mentioned that are offering staking services may be offering lower returns on your investment.
If you consider that the price of XTZ is going to be growing in the future, then we could say that buy XTZ would be a good thing. Remember, we are not advisors and we do not give advice. Tezos could certainly be a good investment if the crypto market grows in the future, but this is just speculation.
XTZ could be a good way to diversify your portfolio and help it outperform more traditional solutions that are currently available in the market.
Three main reasons to buy Tezos?
The first reason to buy Tezos is related to its future growth potential. As we have said, Tezos could be adopted by a larger number of firms and companies from all over the world. This would help XTZ increase in price and be more demanded than now.
Being a fast-growing cryptocurrency with an engaged community is a second reason to invest in XTZ and analyse this virtual currency. Users that see the growth Tezos experienced in the last years could also push them to invest and plan for the mid- and long-term.
Finally, another reason to invest in Tezos is due to its unique Liquid Proof of Stake consensus algorithm and the revolutionary governance system that the team behind Tezos created. If you consider that this could be one of the most advanced governance systems in the crypto market, then this could be a good moment to start investing in XTZ.

Can Tezos reach $1000?
Will Tezos grow like Ethereum did in the early days and reach more than $1000 per coin? This is a very speculative question that every aspiring cryptocurrency investor might be wondering. However, to reach that (almost impossible) target it would take years instead of weeks or months.
Do you have time to wait that long? If yes, the changes to reach that target will increase. Also, a $1000 valuation per coin means that the entire network would be worth more than $1 trillion. At least Tezos as a blockchain project would need to reach the top 5 of cryptocurrency projects on Coinmarketcap website. All in all, the cryptocurrency markets have proven that there are no limits and everything could be possible, so keep on dreaming and holding!
If you are curious and want to know more about the options you have in buying Tezos on exchanges. Read the article we wrote about buying Tezos at cryptocurrency exchanges.
Invest in Tezos: Cryptocurrency wallets
As explained above, Tezos as a decentralized network is considered reliable and secure. However, it's wise to take some additional measures to protect yourself. For instance, when you consider buying Tezos on a cryptocurrency exchange don't leave it there. Instead, withdraw the funds to your local wallet on mobile or desktop. Even better, use a hardware device that can be taken offline immediately. How does this work?
Hardware wallet
The safest way to invest in Tezos is to store your crypto on a hardware wallet. So why do you need a hardware wallet? First, let me explain what a hardware wallet exactly is. To keep your private key safe, there are currently two options: software wallets and hardware wallets. The definition of a hardware wallet:
"A hardware wallet is a special type of cryptocurrency wallet which stores the user's private keys in a secure hardware device. They have major advantages over standard software wallets: private keys are often stored in a protected area of a microcontroller, and cannot be transferred out of the device in plaintext."
In other words, a hardware wallet stores your private keys offline on a device that is disconnected from the internet. To keep your Tezos private keys safe I'll advise you to use the Ledger Nano hardware devices. Below an example of Ledger Nano X.
Buy Tezos with a credit card
Finally, if you have decided to make a Tezos investment, the next step would be actually buying Tezos with a credit card. At the time of writing acquiring Tezos with fiat currency is a lot easier compared with the early days of Bitcoin. Also, it totally depends on what kind of investor you are, but in general, there are two options.
Option 1: Buying Tezos at a cryptocurrency exchange
This is the most common option in the process of buying a new Tezos as an investment. Moreover, with this option, you don't need to own a cryptocurrency wallet, because this platform will generate one for you. At first glance, this sounds very tempting because you don't have to set-up your own wallet and store your private keys(explained above).
However, most cryptocurrency enthusiasts don't like this option because you don't really own the Tezos as the private keys are managed at the platform. This is a very fundamental issue and therefore many crypto investors favor the option to lock down their own private keys. Of course, if you are a trader and want to buy and sell, a centralized platform offers value. In fact, to be safe from hackers I would advise you to use Coinbase(US residents!) because of their trust and liquidity. Also, if you are not from the US and still favor an exchange above setting up your hardware wallet, Binance cryptocurrency exchange will do fine as well.
Option 2: Purchase Tezos without going to cryptocurrency exchange
Another option in buying Tezos is at a platform that doesn't store your private keys after the purchase. In other words, buying at these platforms is only possible if you already own a cryptocurrency wallet. As explained above there are a lot of crypto investors that favor this option to be in full control over their assets. Besides, buying at a centralized cryptocurrency exchange could be limited to certain countries.
However, if you want to invest in Tezos at platforms like Coinswitch or Changelly you can do it from anywhere in the world. Additionally, this doesn't only go for buying Tezos or any other crypto. For instance, it's also possible to sell Tezos and receive money by SEPA or SWIFT. Also, to know more about the key difference between these platforms, we wrote an article about Coinbase vs Coinswitch.
Conclusion
In this exclusive guide about Tezos, we tried to give you all aspects involved in this large-cap cryptocurrency. Some of the most important use cases; on-chain governance and decentralized dApps and smart contracts will be tackled by this solution. As an investor, it's hard to predict where prices will go in a year or a few years from now. However, this project has proved to add value to this young and rising blockchain industry.
Disclosure: This post could contain affiliate links. This means I may make a small commission if you make a purchase. This doesn't cost you any more but it does help me to continue publishing cool and actual content about Bitcoin & Crypto – Thank you for your support!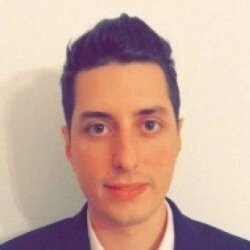 Carlos is an international relations' analyst specializing in cryptocurrencies and blockchain technology. Since 2017, Carlos has written extensively for leading cryptocurrency sites; with over 3,000 articles published.