How do you get cryptocurrency for a minor? This article explains how to build a decent crypto account for your child while being under 18.
Bitcoin (BTC) and cryptocurrencies became a mainstream investment option for investors that want to diversify their portfolios. Rather than holding stocks and bonds, investors are searching for a crypto savings plan that would let them grow their funds in the long term.
Hence, we see that virtual currencies are becoming an alternative to traditional finance. Not so long ago, the first Bitcoin ETF was approved in the United States. This shows the interest that there is from people in creating a crypto savings plan or having a plan B to traditional finances.
Another trend that we have seen is related to parents saving cryptocurrencies for their kids. Indeed, there are some ways in which they can save cryptocurrency for a minor. Once this person turns 18, he would receive all the benefits that his parents were able to build thanks to a crypto savings plan.
In the next sections, we will get into the details on how to handle cryptocurrency for a minor. It is possible to open some accounts and also buy digital assets on their behalf.
Is it Possible to Open a Custodial Crypto Account for My Child?
The short answer to this question is no. Although there might be some specific cryptocurrency platforms available in the market offering similar services (buying crypto for a minor) they might not be the standard way to proceed.
The only way in which you can eventually create a crypto savings plan for your child is by using a decentralized platform like Uniswap or IDEX. These exchanges do not require you to perform Know-your-Customer checks and would let you set up an account for your kid.
Most of these decentralized exchanges would let you buy a wide range of virtual currencies. This would depend on the type of platform that you use, some of these platforms would be linked to the Binance Smart Chain (BSC) network, while others to Ethereum (ETH) or even newer blockchain platforms.

Decentralized exchanges doesn't allow to buy Bitcoin
Despite that, you would not be able to purchase Bitcoin, the largest cryptocurrency in the world. This is because Bitcoin runs on its own network and is now available on other blockchains. Thus, it is up to you to decide which service you use to get cryptocurrency for a minor.
Another thing you should consider before you decide to buy virtual currencies for your child is to plan how to share with him the necessary information about the wallets you own (if this is a non-custodial wallet) and how to access these funds.
This is definitely important as we are dealing with decentralized accounts that require constant control from investors. There are no centralized parties ready to help you if you lose your private keys or access to your wallet. Education is a key aspect of handling virtual currencies.
If you are searching for a custodial crypto platform to store your child's funds, then you should use those exchanges that have been recognized by the community. Once you deposit funds to a crypto exchange to which you do not hold your private keys, then you leave the control of your virtual currencies to a third-party platform. What they do with your coins is then their responsibility rather than yours. You should take that into consideration if you want to store the funds of your child for several years.
Can I get Cryptocurrency for a Minor?
Yes. You can get cryptocurrency for a minor as long as you are an adult and you are legally allowed to buy and sell virtual currencies. Also, this highly depends on the country in which you are and the conditions of each of the platforms in which you operate.
By purchasing cryptocurrency for a minor you will let them own these funds once they become adults. This could be one of the best ways of storing money for the long term and for their future. But in order to do so, you will have to create an account at any of the major exchanges offering crypto buying and selling.
Binance and Coinbase are two of the most popular exchanges right now around the world. These are recognized platforms that let you not only buy and sell virtual currencies but also engage in other crypto activities such as lending funds, borrowing money, or staking coins, among other things.
How to use a cryptocurrency exchange?
If you want to start a crypto savings plan for your kid, you will have to sooner or later open an account at an exchange that would let you get access to digital currencies. No matter if later you withdraw the funds to a hardware wallet.
Creating a clear purchasing strategy is also a very important thing to do. You can set up specific days to get cryptocurrency for a minor or do so on a regular basis. It is up to you to decide the speed at which you buy these coins and how you build the portfolio.
It is also worth mentioning that if you cannot use Binance or Coinbase in your region, you can always try a local trading platform. However, it is highly recommended to make sure that the platform is safe to use and that it has been operating for some time without major issues.
Tips To open a Crypto Account for your Child
Ultimately, there are some tips that you can follow if you want to open a crypto account for your child. Everything would depend on the needs you have and which are your goals in terms of portfolio diversification. These are some of the best things you can do to improve your long-term profitability and portfolio stability.
#1 – Invest in Major Cryptocurrencies
As we mentioned before, the first thing you need to do is to create an account at any major cryptocurrency exchange. This can be done following just a few simple steps. If you already know the exchange you are planning to use, then you can easily sign up and create an account.
Some exchanges will require you to share an ID and a selfie. This is due to KYC regulations and to be compliant with local regulations. After you have opened an account, then you will be able to easily handle digital currencies and your funds.
If you want to start buying virtual currencies for your child, then you should think about the largest cryptocurrencies. We are talking about those digital assets that have lower profit potential but that offer relative stability when compared to other recently released coins.
---
---
Major cryptocurrencies vs smaller coins
Some of these major virtual currencies that you could buy for your kid include Bitcoin, Ethereum, or Litecoin. These are usually the three most popular coins. They have been operating in the crypto market for several years now (Bitcoin more than 10, Litecoin 10, and Ethereum 5) and they would give stability to your portfolio.
While Bitcoin is considered to be digital gold and is already being purchased by countries, Litecoin is known to be the silver to Bitcoin's gold and Ethereum is the largest and most popular smart contracts network in the world.
Smaller coins include Binance Coin (BNB), Cardano (ADA), and Polkadot (DOT), among others. But of course, there are even smaller digital assets that have even larger profit potential as they could be revolutionary for the crypto market. Despite that, these smaller coins have larger risks. This is why it is very important to have a portfolio that is diversified and includes higher and lower risk assets.
Finally, you should check whether the exchange you are using offers a crypto custodial account for the underaged. This would let you plan your portfolio-building strategy according to your needs. Let's not forget that you can withdraw your funds once you have purchased them using a cryptocurrency trading platform.
| | | |
| --- | --- | --- |
| 🏷️Coinname | 💱Best exchange USA(🇺🇸) | 💱Best exchange overall |
| Bitcoin(BTC) | Coinbase | Binance |
| Ethereum(ETH) | Coinbase | Binance |
| Litecoin(LTC) | Coinbase | Binance |
| Cardano(ADA | Coinbase | Binance |
| Binance Coin(BNB) | ❌ | Binance |
| Polkadot(DOT) | Coinbase | Binance |
| | >>Go to Coinbase here | >>Go to Binance here |
Best exchanges for buying and holding the major cryptocurrencies
---
Start buying cryptocurrencies in tranches
Besides choosing some of the major cryptocurrencies to invest in and hold until your kid turns 18, there is another method to enter the volatile crypto markets. For instance, what to do when current prices in the market are very high? At this point, your investments could be at risk especially in the crypto markets.
What is the best method to time the markets? Unfortunately, nobody knows for sure and there is some luck involved when entering, however, there are smart investors who use dollar-cost averaging for this.
In other words, rather than try to find the best moment to buy and enter the market, they start buying crypto in tranches. Meaning at given times on a weekly or monthly basis they start buying crypto. Also, when the price is high they buy less crypto and on the other hand, when the price is low they buy more.
Eventually, the 'recurring buys' feature of Coinbase will help you with this where you initially set up a crypto buying plan(daily, weekly or monthly). For example, when you receive a salary at the end of the month you can automate a certain amount of this into buying some crypto where Coinbase will take care of the buying transaction(buy more or less crypto).
#2 – Choose Some Stablecoins for High-Interest Yields
When planning an investment strategy for your kids, you should also take into consideration the earnings that you can generate with your interest rates. Indeed, some cryptocurrency exchanges and platforms would not only let you buy and hold virtual currencies but you can also lend them to other investors.
There are many reasons why other users would borrow funds. The important thing is that the loans are fully collateralized and they would let you generate an extra income on your funds. Some platforms have higher yields than others, this is why it is always important to search for a secure and recognized platform with high yields for our funds.
Nexo, Celsius, and Blockfi are some of the most popular platforms to handle and manage your cryptocurrency funds if you want to generate a passive income for your child. There are different ways in which you can receive a yield on your funds. You can either purchase stablecoins (Tether or Dai are some of the most recognized examples) or you can use your digital currencies (Bitcoin, Ether, Litecoin, etc).
The power of stablecoins explained
Stablecoins are very useful as they have a value that remains stable in fiat terms. For example, USDT has a price of $1. Each USDT is worth 1 dollar, which makes it very convenient for users to hold and handle their funds. If you have 1,000 USDT, then it would have a value of $1,000.
At the moment, Nexo is offering 12% interest on your crypto savings plan. If you deposit 10,000 USDT for your kid, you will have 11,200 USDT. An important concept in virtual currencies and general investments is related to compounding. If you compound your profits over 10 years at a rate of 12% annually, you should expect to have more than 30,000 USDT.
Celsius network is offering an interest rate of 8% on your stablecoins and Blockfi is currently at 8.88%. It is also worth taking into consideration that the interest rate could change over time depending on the market conditions.
#3 – Use a Hardware Wallet to Store Your Funds
If you are planning to hold your child's funds for a long period of time, then you should definitely think about cryptocurrency wallets, but specifically hardware wallets. Why? Because holding your funds at an online platform could be risky, especially when we know that they have been hacked many times by attackers that wanted to get access to users' funds.
One of the things you can do is to withdraw your funds to a cryptocurrency hardware wallet such as Ledger Nano. Hardware wallets are the most secure devices in the cryptocurrency market. They would not only let you manage your coins, but you will also be able to protect them in the long term. With a hardware wallet, your private keys are stored offline, meaning that they cannot get stolen by malicious parties.
Basically, a hardware wallet makes you the real owner of your funds and would let you keep them for many years without having to be worried about the crypto savings plan for your child. One of the best practices would be to hand over the private keys of your hardware wallet to your child as soon as he turns 18.

In this way, you would not only teach him how to handle his funds but you will also show him that it is possible to save and store value using digital assets such as Bitcoin. But that's not all, using a hardware wallet would also let you earn interest on your stablecoin despite not having your coins at an exchange.
How does earning interest with Ledger work?
But how does this work? This works by connecting your cryptocurrency wallet to decentralized protocols such as Compound. These platforms would offer you an interest rate of around 4% to 5% and they would work without KYC checks or centralized authorities. This is one of the best ways to become financially independent from traditional financial institutions and other centralized platforms.
Although the yields are not so high as using centralized platforms, you will definitely find an opportunity to buy a cryptocurrency for a minor and build a clear crypto savings plan in the long term. Remember that you hold the private keys to the wallet that would later become your child's wallet.
Wrapping it Up
You should now have a better idea of the options you have in the crypto markets when building a crypto savings account for your child. More specifically, and to summarize the key points when buying cryptocurrency for a minor:
Focus on the major cryptocurrency coins to avoid risk
It's very wise to put a part of your crypto savings account in stablecoins to earn high yields
Use a hardware wallet to store the funds(private keys) offline to be as safe as possible
---
📣Important: List of top Crypto Projects
🎁 Swapzone: Find the best crypto offer
🚀 Bitsgap: Best Automated Trading Bots
💲 Nexo: Reliable Crypto Lending Platform and get $25 free Bitcoin
***To be Profitable in the markets
---
Disclosure: This post could contain affiliate links. This means I may make a small commission if you make a purchase. This doesn't cost you any more but it does help me to continue publishing cool and actual content about Bitcoin & Crypto – Thank you for your support!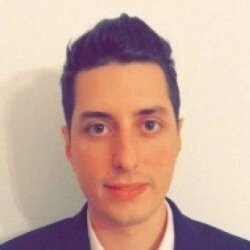 Latest posts by Carlos Terenzi
(see all)