How to earn daily from cryptocurrency on autopilot? This article about Binance Earn explains 10 ways to acquire new cryptocurrency even while you are sleeping!
Binance is now one of the largest virtual currency exchanges in the world thanks to its massive expansion over the last years. This cryptocurrency exchange was created and launched in 2017 as an Initial Coin Offering by Changpeng Zhao was able to surpass Coinbase, Kraken, Poloniex, and many others in a very short period. One of the reasons behind this success was related to the possibility to earn crypto daily that Binance started offering to users.
Indeed, just a few months after being released, Binance was among the exchanges handling the largest crypto trading volume in the world. At that time in 2017, Initial Coin Offerings (ICOs) was a very common thing. Notably, there have been thousands of tokens released to the market thanks to ICOs.
The problem was that few exchanges were offering the large variety of tokens that were offered by Binance. In this way, it became one of the best exchanges in the world to handle virtual currencies. Although trading was the main activity for users on the Binance exchange, it is now just one of the many other services offered by this platform.
Binance is nowadays a cryptocurrency ecosystem with a wide range of services and solutions. As we previously mentioned, it is now possible to earn daily from cryptocurrency using the Binance Earn program, among other things. Binance users are not only able to trade but also to engage in different crypto activities directly from the platform.
In the next sections, we will share with you 10 ways to earn crypto daily on Binance and how you can start making a passive income thanks to this platform.

10 Ways to Earn Crypto Daily on Binance
Binance is now offering many different ways for users to earn daily from cryptocurrency. There is not just a single solution but a large variety of options that are now supported by Binance. Some of them include a BNB Valt, Flexible Savings, Fixed Savings, and Locked Staking, among other things.
1. BNB Vault
BNB Vault is one of the most innovative products offered by Binance. This solution works as a capital-guaranteed investment product that has an easy-to-use interface and that would help users maximize the possible earnings of their BNB token. BNB is the token released by Binance and that works on the entire Binance ecosystem.
By using centralized and decentralized finance solutions, users will be able to receive high yield rewards on their BNB tokens that could reach as much as 20% per year. The funds that you deposit in BNB Vault will then be allocated to different products to help users maximize the rewards.
The rewards would come from different financial services offered by Binance such as Launchpool, Savings, DeFi Staking, and more. One of the main benefits is that you do not have to manually allocate the BNB yourself into the most rewarding solutions but Binance would do that for you in the background.
2. Flexible Savings
Flexible savings is one of the most popular ways in which you can earn crypto daily from Binance. You can deposit any cryptocurrency you hold to the Binance exchange and transfer them to the flexible savings section.
Flexible savings are very useful as there are many virtual currencies currently supported. You will earn daily from cryptocurrency and the funds will be credited directly to your account on a daily basis. This option offered by Binance has fluctuating APRs and the main benefit is related to the fact that you can easily withdraw the funds if you want to have liquidity. Indeed, you can have instant liquidity if you desire it. In some cases, the yearly yields surpass 10% for some virtual currencies.
If you are a cryptocurrency holder, you can already start making money on Binance by depositing them in the flexible savings section. Take into consideration that you can also deposit stablecoins such as Tether (USDT) or Binance USD (BUSD) if you prefer to hold virtual currencies that do not fluctuate in value.
3. Fixed Savings
Fixed savings is another way to hold your virtual currencies in the Binance platform and start to earn daily from cryptocurrency. The main difference that exists between fixed and flexible savings is the fact that your funds are going to be frozen for a pre-determined period if you use the fixed savings option.
Compared to flexible savings, fixed savings would let you earn crypto daily with a higher yield. Why? Simply because you are blocking your funds for different periods of time. The locking period changes according to virtual currency and availability (there are limited slots available), thus, you could stake your coins for as little as a week and as much as 90 days.
The most common fixed-term locking periods include 30 days and 15 days. If you are not planning to use your crypto in the short term and you do not need to withdraw them, using the fixed savings option offered by Binance could be a great way to earn crypto daily.
The profit you generate by leaving your funds in the fixed savings option would then be credited to your account at maturity.
4. Launchpool
Launchpool is also among the best solutions offered by Binance to users that want to receive different tokens. In order for this product to work, you would have to deposit and stake BNB to farm and earn new tokens. The rewards that you receive would highly depend on the number of tokens that you hold.
One of the main benefits of using the Launchpool is that you can get access to new coins that have not yet been added to Binance and tokens that could be just being released to the market. In some cases, these tokens could have high earnings potential.
Binance would let you select the pool in which you can stake your tokens. You can also select the amount of BNB tokens that would be staked. Depending on your participation in the pool, you will receive a proportional amount of new tokens. Basically, you are minting new tokens with your BNB coins deposited in Launchpools.
5. NFT Marketplace
The cryptocurrency market is now offering not only cryptocurrencies and trading but also non-fungible tokens (NFTs). This is one of the latest trends in virtual currencies and it would let you get access to some of the fastest-growing sectors in the cryptocurrency space.
In this case, Binance's NFT Marketplace is allowing users to trade and exchange a wide range of digital artworks, collectibles, and many other types of NFTs. Everything can be done using the Binance exchange and in just a few clicks.
The marketplace would let you earn money by creating (minting) or selling NFTs that you could own. Moreover, you can also buy and hold new NFT collections and wait for their price to move higher before selling them. You can also purchase Mystery Boxes that would let you earn different types of NFTs. If you are lucky enough, you will get a super rare (SR) or 'super super' rare (SSR) NFT.

6. Locked Staking
As you might know, some cryptocurrencies work with a consensus algorithm known as Proof-of-Stake (PoS). Some of these virtual currencies include Tezos (XTZ) or NEO (even though with some changes to the traditional PoS algorithm).
Staking your digital assets alone could be risky and not user-friendly for some users. However, if you decide to stake your coins using Binance, everything would be handled by the platform. Therefore, you can earn crypto daily using this exchange and with the locked staking option.
As it happened with fixed savings, you would be able to stake your coins and earn network rewards as long as you keep your tokens fixed for some time. Usually, the maturity period could be between 7 and 30 days, but there are also other options available for other types of users.
This is a great way to earn daily from crypto and be part of your favorite blockchain networks in the cryptocurrency market. As you can see, you can earn crypto daily on Binance and at the same time participate in the consensus process of virtual currencies.
7. DeFi Staking
We all know what decentralized finance (DeFi) is and how it works. Decentralized finance is one of the fastest-growing markets in the crypto space. Rather than having access to financial solutions using traditional financial institutions, users can do so using blockchain technology.
Staking in decentralized finance is related to locking your crypto tokens in a smart contract to receive rewards on that protocol. Rather than holding your funds in a bank or using another financial institution, you would get rewards just by letting your funds work on that protocol.
DeFi staking on this exchange would be done through Binance rather than directly on the protocol, which means that the rewards could be lower than on the protocols themselves.
Despite that, this could be one of the best options to earn crypto daily on Binance as it could have higher yields than other options. Moreover, it could also offer users the possibility to stake other virtual currencies rather than just the most popular ones. If you are planning to stake digital currencies on Binance and earn daily from cryptocurrency you should definitely try this solution offered by the Binance exchange.
8. Activities
There is another way to earn rewards using the Binance ecosystem and in just a few minutes. Activities are simple events that are promoted by Binance in which you would be able to get usually higher returns for Fixed Savings products.
These activities usually have a limited supply and would appear from time to time. If you want to get higher returns on your Fixed Savings, then this could be a great opportunity to do so. But of course, you should pay attention to new activities being unlocked and whether they would let you earn rewards on the cryptocurrencies you hold.
Usually, these activities involve smaller digital assets, but sometimes you can find Bitcoin, Ethereum or Binance Coin offers with higher APR compared to other solutions on the platform. If you want to be among the first, then you should check this page daily to find the latest activities.
9. ETH 2.0 Staking
Ethereum (ETH), the second-largest cryptocurrency in the world and the largest smart contracts network is transitioning from a Proof-of-Work (PoW) consensus algorithm dominated by miners to a Proof-of-Stake (PoS) digital asset. In this process, ETH 2.0 staking has been released for solo miners and also for those users that want to do so through Binance.
It is worth taking into consideration that the rewards shared by ETH 2.0 would not be paid to users until Shard Chains are fully implemented. Therefore, you should wait until the official release of ETH 2.0 before you can redeem your rewards. Nonetheless, Binance has tokenized these rewards according to what you are expected to receive as soon as the ETH 2.0 Phase One goes live.

The tokens created by Binance are called BETH and they are a representation on a 1:1 basis of your Ethereum. You would be able to exchange your BETH for ETH as soon as ETH 2.0 Phase One goes live. Take into consideration that the rewards offered by ET 2.0 staking would be lower if the number of users staking ETH is larger. In the long term, you should expect your rewards to decrease.
10. Liquid Swap
Let's dive into the last of the options offered by Binance to earn crypto daily. Liquid Swap is one of the many Binance Earn financial products offered by this cryptocurrency exchange. Liquid Swap works as a decentralized exchange (DEX) in which traders can exchange tokens without the need for an order book.
For the DEX to work, users must deposit funds that would provide liquidity to the different trading pairs offered in this exchange. You would be able to select the trading pair that you want to provide liquidity to and deposit tokens. Usually, you can deposit two different tokens or you can simply let the system convert your deposit into the tokens of the pool that you selected.
Every single time that there is a swap on the trading pool in which you are a liquidity provider, you will earn a small percentage of the commission paid by the trader. The larger your participation in the pool, the larger the reward that you will receive. If you hold 1% of the pool's tokens, then 1% of all the fees allocated to the pool will go to you.
The following articles might also be a good read for you:
---
📣Important: List of top Crypto Projects
🎁 Swapzone: Find the best crypto offer
🚀 Bitsgap: Best Automated Trading Bots
💲 Nexo: Reliable Crypto Lending Platform and get $25 free Bitcoin
***To be Profitable in the markets
---
Disclosure: This post could contain affiliate links. This means I may make a small commission if you make a purchase. This doesn't cost you any more but it does help me to continue publishing cool and actual content about Bitcoin & Crypto – Thank you for your support!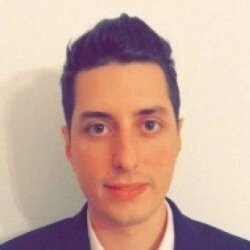 Latest posts by Carlos Terenzi
(see all)