This 101 guide covers all ingredients according to Cardano. Also an answer to the question 'Should I Invest in Cardano' and future price developments.
Cardano (ADA) is one of the most promising projects in the cryptocurrency market. Created by Charles Hoskinson, Ethereum's co-founder, and launched in 2015, this digital asset and blockchain network has been attracting a large number of investors.
This guide is going to be fully related to whether people should invest in Cardano and the main characteristics of this digital asset. One of the most important things to mention is the fact that ADA is considered to be a third-generation cryptocurrency. These digital assets are considered to be faster and more reliable than those of the first (Bitcoin and Litecoin) and second (Ethereum) generations.
Disclaimer: This guide and the information provided by the writer should not be considered investment advice. We are not advisors. This is just for educational purposes only. Cryptocurrencies are very volatile and you never should invest more than what you are able to lose. Before making a decision ask your personal financial advisor.
What is the current price of Cardano(ADA)?
Below is the table that shares all actual data of the Cardano cryptocurrency. First and foremost, it will give you the actual price(updated once every 24 hours), also it will give you some extra specifics about the network including total market cap and circulation supply of coins.
Current ADA price(24 hours)
| | |
| --- | --- |
| Cardano(ADA) price | $0.29(-0.39%) |
| Total market cap | $10,145,150,856 |
| Circulating supply of coins | 35,037,822,594 ADA |
| CMC ranking | 8 |
*CMC ranking: Ranking of the Cardano project on Coinmarketcap website
What is Cardano used for?
Cardano is a cryptocurrency and blockchain network that is currently used to run smart contracts and process transactions. The way in which Cardano was created allows it to be a very decentralized network that can efficiently process smart contracts and other functions.
The main benefit of the Cardano network is related to its scalability compared to others. We will talk about it in the next sections. In addition to it, Cardano works with the Ouroboros Proof of Stake (PoS) consensus algorithm in order to protect the network and process transactions.
Users, developers, and firms can start using the Cardano network in order to run their solutions and needs. For example, Cardano and New Balance have signed a partnership with the goal of fighting counterfeit products and shoes. This is just one of the use cases Cardano is allowing for and that companies are already analyzing.
If you want to know more about the possibilities you have in earning some passive income on Cardano. Read the article we wrote about best places to stake Cardano. It explains very clear all options you have in earning passive income with staking Cardano.
Who owns Cardano?
Cardano is not owned by any central authority. Cardano is one of the most decentralized networks in the market. According to Charles Hoskinson, the founder of Cardano, the blockchain network could become much more decentralized than Ethereum (ETH) or Bitcoin (BTC).
Thus, Cardano is simply owned by the community. That is all the people, investors, and participants that are currently holding Cardano and those that want to have even more prominent participation and that are running a node on the network.
This shows Cardano is far from being owned by just a single entity or person. It is a real decentralized blockchain network that provides solutions to participants in the market and that offers better solutions than other crypto platforms.
Invest in Cardano: Video explanation
Is Cardano better than Ethereum?
There is no clear answer on whether one is better than the other. The answer will be that "it depends." And indeed, it depends on several things, including the way you will use the network, and the needs you have.
At the moment, Ethereum has more users and it has reached a larger share of the market, which means that it may be easier for you as a crypto firm or developers to start using Ethereum. Furthermore, there are many developers working with Etheruem, meaning that if you need help, you will definitely find someone ready to help you.
Cardano seems to be more advanced, though. This is because Cardano is a more modern and innovative digital asset and blockchain network. Perhaps, doing similar things in the Cardano blockchain would be much more efficient than using Ethereum. In addition to it, Cardano could become more decentralized than Ethereum – which is something to take into consideration.
Will Cardano be on Coinbase?
There are many rumors suggesting that the ADA cryptocurrency could eventually get listed in Coinbase, one of the largest cryptocurrency exchanges in the world. However, there is no confirmation from the exchange at the time of writing this article.
Coinbase is one of the largest and most popular crypto exchanges in the world, allowing companies and firms to have access to advanced cryptocurrency services. At the same time, Coinbase is also a very user-friendly exchange and crypto platform – something that allows newcomers to the space to have easy and fast access to a wide range of cryptocurrencies in the market.

Cardano's ADA currency could eventually be listed on the Coinbase platform to be traded at the end of the current year. Nevertheless, these are just suppositions about what can happen with this cryptocurrency.
It is worth mentioning that in early July 2020, Coinbase Custody started to offer support to ADA. This is something that shows Coinbase is working with Cardano and it could be on its plans to add this virtual currency to its trading platform in the future.
Is Cardano a Shitcoin?
Cardano (ADA) is not a shitcoin. This is something that can be seen in the way ADA has been created, developed and promoted. The team behind Cardano has been working over the last years implementing a scientific philosophy.
That means that they have created scientifically accepted and tested systems rather than focusing on marketing and high exposure. This is one of the reasons why there might be little marketing campaigns about Cardano.
It is just worth comparing this digital asset with Tron (TRX). Tron has been heavily promoted all over the world with expensive giveaways, marketing campaigns and more. However, at the time of writing, Cardano is the 7th largest cryptocurrency compared to Tron that is now standing as the 17th largest.

Despite we cannot confirm Cardano is going to become one of the top 3 virtual currencies or it will disappear, one thing is clear, it has shown to be one of the most serious projects in the world and in the crypto and blockchain markets.
Is it worth investing in Cardano?
This will definitely depend on the moment you invest in Cardano. Those users that placed their bets since August 2019 are now registering gains. That means that a large number of participants is now in positive territory with their ADA coins.
However, if you invested close to its all-time highs in early 2019, you will see that Cardano is still 90% down. That means that many investors lost a lot of money in Cardano. Of course, the entire market was in a bubble and this has had a negative influence in the digital asset.
You must always understand that virtual currencies are very volatile and they can lose their price in just a few days. Despite that, the upside is massive for cryptocurrencies. This is why investors should closely follow the market and understand whether this is a correct moment to invest in ADA or not.
SingularityNet collaborates with Cardano
In 2020, SingularityNet was in the news, where it announced that they would leave the Ethereum blockchain. Instead, they will continue to operate on the Cardano blockchain network which is very bullish for the Cardano project as a whole. So, what is SingularityNet all about?
SingularityNet is being led by a scientist called dr. Ben Goertzel, which has its primary focus on decentralized AI solutions. Moreover, SingularityNet is the world's first platform that connects AI systems and let them communicate. In particular, they want to create AGI systems that stand for 'Artificial General Intelligence'.
Can Cardano hit $100?
Everything is possible, but let's be real. This is something that may not happen even in the next ten years. In order for ADA to reach $100 per coin, it would need to grow by 83,200% from its current levels. That means that it would have a market valuation of $3.1 trillion USD. This is certainly something almost impossible to happen.
Bitcoin was not yet able to reach $500 billion market capitalization. This is why it may take a long time before we see Cardano moving higher. It is also worth mentioning that with higher inflation in the coming years, it may be certainly possible to see more often values close to the trillions of USD.
Nevertheless, this is currency something that remains far from taking place in the near future. It is for sure that many investors would be glad to see Cardano moving towards $0.5 and eventually reaching its previous all-time high before going to $100.
Invest in Cardano: Cryptocurrency wallets
As explained above, Cardano as a decentralized network is considered reliable and secure. However, it's wise to take some additional measures to protect yourself. For instance, when you consider buying Cardano on a cryptocurrency exchange don't leave it there. Instead, withdraw the funds to your local wallet on mobile or desktop. Even better, use a hardware device that can be taken offline immediately. How does this work?
Hardware wallet
The safest way to invest in Cardano is to store your crypto on a hardware wallet. So why do you need a hardware wallet? First, let me explain what a hardware wallet exactly is. To keep your private key safe, there are currently two options: software wallets and hardware wallets. The definition of a hardware wallet:
"A hardware wallet is a special type of cryptocurrency wallet which stores the user's private keys in a secure hardware device. They have major advantages over standard software wallets: private keys are often stored in a protected area of a microcontroller, and cannot be transferred out of the device in plaintext."
In other words, a hardware wallet stores your private keys offline on a device that is disconnected from the internet. To keep your ADA private keys safe I'll advise you to use the Ledger Nano hardware devices. Below an example of Ledger Nano X.
Buy Cardano with a credit card
Finally, if you have decided to make a Cardano investment, the next step would be actually buying ADA with a credit card. At the time of writing acquiring Cardano with fiat currency is a lot easier compared with the early days of Bitcoin. Also, it totally depends on what kind of investor you are, but in general, there are two options.
Option 1: Buying Cardano at a cryptocurrency exchange
This is the most common option in the process of buying a new Cardano as an investment. Moreover, with this option, you don't need to own a cryptocurrency wallet, because this platform will generate one for you. At first glance, this sounds very tempting because you don't have to set-up your own wallet and store your private keys(explained above).
However, most cryptocurrency enthusiasts don't like this option because you don't really own the Cardano as the private keys are managed at the platform. This is a very fundamental issue and therefore many crypto investors favor the option to lock down their own private keys. Of course, if you are a trader and want to buy and sell, a centralized platform offers value. In fact, to be safe from hackers I would advise you to use Coinbase(US residents!) because of their trust and liquidity. Also, if you are not from the US and still favor an exchange above setting up your hardware wallet, Binance cryptocurrency exchange will do fine as well.
Option 2: Purchase Cardano without going to cryptocurrency exchange
Another option in buying Cardano is at a platform that doesn't store your private keys after the purchase. In other words, buying at these platforms is only possible if you already own a cryptocurrency wallet. As explained above there are a lot of crypto investors that favor this option to be in full control over their assets. Besides, buying at centralized cryptocurrency exchange could be limited to certain countries.
However, if you want to invest in Cardano at platforms like Coinswitch or Changelly you can do it from anywhere in the world. Additionally, this doesn't only go for buying Cardano or any other crypto. For instance, it's also possible to sell Cardano and receive money by SEPA or SWIFT. Also, to know more about the key difference between these platforms, we wrote an article about Coinbase vs Coinswitch.
Conclusion
In this exclusive guide about Cardano, we tried to give you all aspects involved in this large-cap cryptocurrency. Some of the most important use cases; a truly designed decentralized network and smart contracts will be tackled by this solution. As an investor, it's hard to predict where prices will go in a year or a few years from now. However, this project has proved to add value to this young and rising blockchain industry.
Disclosure: This post could contain affiliate links. This means I may make a small commission if you make a purchase. This doesn't cost you any more but it does help me to continue publishing cool and actual content about Bitcoin & Crypto – Thank you for your support!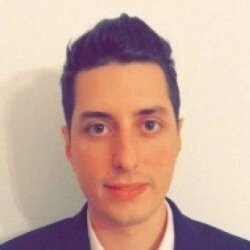 Carlos is an international relations' analyst specializing in cryptocurrencies and blockchain technology. Since 2017, Carlos has written extensively for leading cryptocurrency sites; with over 3,000 articles published.