Currently, we are at the start of a new decade, which brings us new opportunities as a starter in the job market. The crypto industry is a sector to keep an eye on.
Cryptocurrencies and blockchain technology have been growing in popularity in the last years. One of the main reasons behind this growth is related to Bitcoin (BTC) moving from $1,000 to $20,000 in 2017.
Blockchain, the technology behind Bitcoin and other virtual currencies, has also been used by companies around the world to enhance their services and offer new solutions to their clients. In this way and thanks to more investment in the market, new opportunities are arising for individuals that want to develop their career in this exciting industry.
Working in the cryptocurrency market is a unique adventure that would allow you to undergo incredible interactions and live fascinating experiences, depending on the position you are working on.
The market is expanding and this provides great opportunities to become a leader in a specific sector of this industry. If you are a leader and you have previous working experience, then you can be sure that many companies are searching for such candidates to take important roles in startups and crypto or blockchain-related firms.

In this article, we will share with you some of the possibilities you have to start earning a salary in the virtual currency market and which are the advantages of participating in the sector.
Working From Home
Working from home is one of the main advantages of being in the crypto market. Considering the space is just starting to grow, startups might not have an office where to work and their employees may be located all around the world.
This is a very different way of working compared to traditional corporations and other firms that have a building, offices and a very strict dress code for their employees. This has many advantages. You can usually handle your own timetable, you can decide where to work and you will have the possibility to arrange your working space.
Working from home in Crypto has benefits
Moreover, you can spend more time with your family, which is something that you would not be able to do in a traditional company. Working from home would also allow you to save money in the transport you would have to use to go to your office, which can be translated into more funds to spend on other things.
Furthermore, even if you had your own car, you would now avoid traffic and stressful situations on the street. This is going to be healthier for you, taking into account you now can use the time you were stopped in the traffic to go to the gym, do some exercise or just take a rest.
Work On Non-Technical Crypto Positions
Cryptocurrency startups, projects, and companies require employees to focus on marketing and not only in technical issues. Additionally, firms are not selling products and services through traditional business models. Also, when starting in a new market gaining market share and new clients is very important. This is why it is very important for these crypto projects to become known for as many users as possible.

If you have previous experience in marketing and/or you have studied marketing strategy, you come to the right place. For example, you can set up your crypto marketing agency or search for a job as an expert in a blockchain firm. At the same time, if you have a network of crypto sites, YouTube Channels and financial websites, you will certainly have the necessary advantage to start positioning your company or a crypto startup.
This is an advantage for those individuals that consider that only people with a technical background can work in the cryptocurrency market. Moreover, you don't need to be a developer or a computer scientist to work in this space. You can also be a translator, a graphic designer or a journalist. One thing is for sure: if you search for a job, you find it.
Working In Cryptocurrency Startups
As previously mentioned in the article, you will be working in young and fast-growing firms. This in contrast to working for large corporations with millions of clients from all around the world. Also, by being an employee of a startup, you will have the opportunity to better know the clients you are working for.
Interested in starting a profitable career in the cryptocurrency market? Also, if you have doubts about your current skills we advise you to take a look at Blockgeeks. An online portal that gives you a headstart in this industry.
This will bring new experiences to you. You may be the person dealing with an important partnership for your firm to offer services to five clients located in three different countries. With this exciting and responsible task, you will certainly be a leader in the space. Also, you are part of a company that is setting the roots for the whole industry to move forward in the coming years.
It is worth mentioning that in a startup you will have more chances of picking new responsibilities and learning new tasks. For example, working for a start-up brings a lot of new opportunities. Also, time is very scarce and often there is no time to search for new candidates. In fact, if you know the market and you already have the necessary experience, then you are the correct person for this position.
Finally, you will have a bigger influence on the decisions of the company if you work in a small startup rather than if you are an employee at a corporation.
Conclusion
The cryptocurrency market has brought many new opportunities. Especially for individuals that want to live a new professional experience and do something totally different. Moreover, they will be part of a fast-growing market that is creating new opportunities for users and firms globally.
Disclosure: This post could contain affiliate links. This means I may make a small commission if you make a purchase. This doesn't cost you any more but it does help me to continue publishing cool and actual content about Bitcoin & Crypto – Thank you for your support!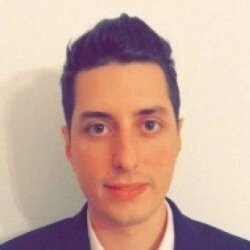 Latest posts by Carlos Terenzi
(see all)