This article will examine the possibility of a cashless society where cryptocurrencies are being used. Furthermore, the pros and cons of a cashless society.
As the world moves towards cashless means of payments and connected societies, the main question is whether virtual currencies can prosper in a cashless society. There are several countries around the world, such as India and Sweden, that are banning cash transactions. In fact, in these countries, individuals are using electronic means of payments on a daily basis.
Although cryptocurrencies have been growing as well, they are far from reaching mass adoption. Taking this into account, we will explain in this article what is a cashless society, and whether digital assets can prosper in these societies.
What Does a Cashless Society Mean?
Cashless societies are those in which most of the transactions are processed by different electronic means rather than cash. These electronic means include smartphones, credit and debit cards or bank transfers.

In these countries, coins and physical banknotes are not needed to pay for goods and services. Additionally, digital solutions are preferred by the parties involved in a transaction. Individuals in these countries are taught about how to use money in a non-physical way and through electronic solutions.
Why A Cashless Society?
There are several pros and cons to having a cashless society. For example, considering people do not have to carry cash in their pockets, criminality tends to fall. It is not the same to steal a credit card or a blocked smartphone than anonymous and untrackable cash.
In addition to it, banks, families and financial institutions reduce the costs of storing money and taking care of it. It is not the same to have cash stored in a safety box than in a fully digitized account.
Also, by having a cashless society, tourists do not have to be worried about finding an exchange where to buy or sell their currency. This is certainly useful considering there are several applications and solutions that help individuals reduce the commissions of currency exchange while using credit or debit cards.
At the same time, it is also more difficult for corrupted government officials to accept illegal funds or bribes. This is certainly helpful in many corrupt countries. Nonetheless, this doesn't mean that corruption will disappear.
A cashless society comes with serious problems
Furthermore, there are some disadvantages to cashless societies. In the first place, elderly people who aren't that tech-savvy will be forced to use digital transactions. Also, these people could be easily tricked by 'hackers' or other individuals with bad intentions. Another problem all people to deal with is giving up your privacy, which wasn't an issue when there was cash money. Furthermore, in this digital age personal data of customers is seen as 'the new oil' that bigger corporations are willing to pay lots of money for. Be in control of your own data is therefore needed when society emerges to a cashless variant. The tweet below gives a proper explanation of why cryptocurrencies are needed in a cashless society:
Will Cryptocurrencies Prosper In a Cashless Society?
Virtual currencies lose many of their advantages in cashless societies. Why would a person decide to use virtual currencies when their systems already work properly? Well, one of the reasons is related to having more privacy and control over their funds.
In cashless societies, governments have larger control over citizens and individuals. They know what they buy, when and how. At the same time, companies have a lot of valuable personal and private data regarding what people do. This is where cryptocurrencies could prosper in a cashless society.
Cryptocurrencies, despite operating many of them with open blockchain networks, offer users the possibility to have more privacy over the things they do. This is certainly important. They can still enjoy an easy-to-use system and technology that is fast but that helps them protect their privacy.
Countries like China and India are pushing for a strong digitalization to increase tax collection, and control their populations. Indeed, Venezuela has done the same thing – almost pushed by massively high inflation rates – and it uses all the information that it got from citizens to continue with its repression.
Venezuela is an example where cryptocurrencies prosper
Indeed, Venezuela is a good example of how a cashless society could help cryptocurrencies prosper. Venezuela is one of the places in the world where digital assets are used on a daily basis to pay for goods and services. Its population got used to handling electronic means of payments and they applied this knowledge to use digital assets.

Correspondingly, cryptos do not only protect privacy. Instead, they could also expand in cashless societies due to the fact that these populations are already used to electronic means of payments. Moving from a society that is not used to cashless payment systems, may create an extra barrier for users.
Virtual currencies have another advantage over traditional payment systems. Firstly, users can always pay with virtual currencies, because they are available 24 hours a day. Also, there will be no network outages, such as the one credit or debit cards could experience. Finally, all these things together would certainly lower the barrier for cryptocurrencies to take off as a widely accepted method.
Conclusion
Cryptocurrencies could eventually expand in a cashless society where the government is taking away freedoms from users and individuals. People in Sweden, with few problems and issues with its currency, may find it not so useful despite having privacy advantages over government-backed electronic means of payments.
Privacy and freedom are the two most important words to take into account to understand whether it is possible for cryptocurrencies to prosper in a cashless society. For virtual currencies to expand in a cashless society it will certainly depend on the whole economy and the particularities of the country. However, one thing is clear, teaching people how to use electronic systems to process payments is certainly going to be an advantage for cryptocurrencies to prosper.
Disclosure: This post could contain affiliate links. This means I may make a small commission if you make a purchase. This doesn't cost you any more but it does help me to continue publishing cool and actual content about Bitcoin & Crypto – Thank you for your support!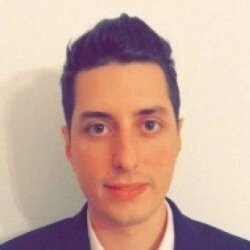 Latest posts by Carlos Terenzi
(see all)