In this article, a deep-dive in a very profitable strategy in the cryptocurrency space, which is staking and dividend paying cryptocurrencies.
Cryptocurrencies have been expanding all around the world due to their massive gains in the last few years. Bitcoin (BTC), for example, moved to $20,000 per coin in 2017, while other altcoins followed with large price increases.
Despite that, virtual currencies are very volatile and risky for investors. Indeed, they can fluctuate a lot. To continue with the previous example, a year after Bitcoin reached $20,000 it was traded below $3,200. Meanwhile, other altcoins fell by over 99%. At the time of writing, most of them are still recovering from this bear market. In fact, this bear market experienced the heaviest period between 2018 and 2019.

The crypto markets are full of new opportunities
Nevertheless, after years since the bull market, new solutions and services have been created. Also, these solutions are done by the most important companies and projects in the space. One of these possibilities is related to staking, which can provide users with low-risk and high-returns.
In this article, we will share with you which are some of the best dividend paying cryptocurrencies in the industry. In the first place, we will share with you what PoS stands for. Also, we will share how it is possible to reduce risk while investing in virtual currencies.
What are Proof-of-Stake cryptocurrencies?
Before exploring the dividend opportunities, we need to know what Proof-of-Stake is and how it is helping blockchain networks become more secure. PoS is the process in which it is possible to protect a distributed ledger network and process transactions. Users that perform these staking activities get rewarded for their effort keeping the network under control.
In other words, PoS coins offer users the possibility to earn rewards in tokens(dividends) by holding these coins locked for a certain period of time.
Best Dividend Paying Cryptocurrencies
In particular, Proof-of-Stake (PoS) virtual currencies can be great for generating passive income in the long term. Furthermore, these kinds of cryptocurrencies are avoiding the high risk the crypto markets are famous for. In addition, this opens up a fabulous opportunity for individuals that hold large – or small – amounts of money. Moreover, this opportunity gives new investors the ability to hold a position and to earn dividends at the same time!
Some of the best dividend paying cryptocurrencies include NEO, PIVX, Binance Coin (BNB), Kucoin Shares (KCS), Decred (DCR), TomoChain(TOMO) and Komodo (KMD).
NEO

NEO is known to be the Chinese Ethereum (ETH) and one of the most popular cryptocurrencies in the market. It became very popular when the Chinese market was expanding at very fast rates in the crypto industry.
NEO provides users with the possibility to earn GAS. Holders of the NEO tokens do not only receive GAS, a token that can be used on the NEO blockchain but they also have the possibility to participate in the governance structure of the network.
Holding 1000 NEO ($12,610.00) would give you an interest of over $253 or 147 GAS, which can be sold in the market like any other crypto.
PIVX

PIVX is a privacy coin that aims at providing scalability and fungibility to users. With it, users can easily earn dividends for the funds they hold. PIVX works with a masternode model, similar to DASH, and they are now offering a dividend between $13.54 or $19.28 monthly if you invested $10,000 USD.
At the moment PIVX is the 158th largest virtual currency in the market with a valuation of $20.41 million.
Binance Coin(BNB)

Although Binance Coin doesn't provide you with a dividend in a direct way, it will allow you to get some interest if you start using the Binance exchange. Binance is one of the largest exchanges in the market and it currently offers users the possibility to invest in fixed-term tools.
Users can purchase BNB, store them in the platform and they will get rewarded with a flexible or a fixed interest rate over time. This could be a good option if you are holding digital assets. You can simply move them to BNB and start earning with the investment solutions provided by Binance.
Komodo(KMD)

Komodo is also a recognized virtual currency that offers anonymity features and can be considered one of the best dividend paying cryptocurrencies in the world. You can get an annual return of 5% in KMD coins if you invest in this virtual currency.
When taking into account which digital assets you want to hold in your portfolio is also a good idea to have digital assets that offer annual returns through staking.
TomoChain(TOMO)

TomoChain was created as a revolutionary efficient blockchain that works with the TOMO virtual currency. By using a delegated proof of stake (DPoS), a variation of the traditional Proof of Stake, users can earn rewards.
By voting for a Masternode, you need to hold 100 TOMO and you will get an annual reward on your investment of 6.35%. Meanwhile, you can also run a Masternode and get an annual reward of 7.58%
It is worth mentioning that 1 TOMO is equal to $0.55 at the time of writing. Meaning that users that want to run a Masternode would need more than $27,000(50.000 TOMO for running a full node).
Finally, Kucoin Shares is also providing dividends to users. Users that hold KCS will receive a daily dividend according to the volume of trades that they performed on the platform. At the same time, the exchange is sharing 50% of its trading fees with holders, meaning that there could be a good profit for users.
By holding 10,000 KCS ($12,242.37) you will receive 653 KCS per year, equal to $796, becoming one of the best dividend paying cryptocurrencies in the industry.
How to stake Dividend Paying Cryptocurrencies?
If you want to stake virtual currencies, you can do so in a very easy way. You can hold the funds in a wallet that would give you the rewards that the network distributes. This is one of the easiest ways if you know where to find this wallet for your digital currency.
A second option would be to use a cryptocurrency exchange such as Binance or KuCoin. Both of them offer users the possibility to stake the virtual currencies they acquired, making it easier for all to be invested in the crypto market.

Bonus video
Conclusion
In this article, we discussed the best ways to handle dividend paying cryptocurrencies. Moreover, with the rapidly evolving developments in this industry more and more PoS coins are entering the market. To profit from this opportunity one has to invest on average $10000 – $50000 to be able to earn dividends on cryptocurrencies. However, for smaller investors, there is another opportunity by just staking cryptocurrencies on the bigger trading platforms out there. Finally, it is good to know that you *DYOR first before investing large sums of money.
*DYOR: Crypto slang meaning Do Your Own Research
Disclosure: This post could contain affiliate links. This means I may make a small commission if you make a purchase. This doesn't cost you any more but it does help me to continue publishing cool and actual content about Bitcoin & Crypto – Thank you for your support!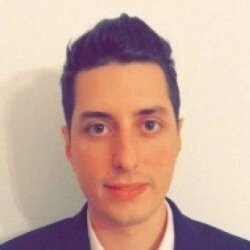 Latest posts by Carlos Terenzi
(see all)