In this guide about cryptocurrency assets, all aspects explained that makes this kind of asset very popular among traders and investors.
Cryptocurrencies have become a very important financial asset in the financial world. A growing number of investors is acquiring digital assets to diversify their portfolios and also to speculate with their price.
Back in 2009, it all started with Bitcoin (BTC), currently the largest cryptocurrency in the world. Additionally, it was created in order to challenge the traditional financial system. However, as the years passed, it became the most popular of the crypto assets and a highly attractive investment tool.
What is the definition of an Asset?
An asset can be considered a resource or anything of value that can easily be converted into cash or that the owner expects would generate revenue. Different kinds of assets are owned by individuals, companies, firms, and organizations.
These assets could eventually generate cash flows in the future, they can be financial securities or they can also be goods. In recent times, cryptocurrencies became valuable assets that have been used by companies and users to speculate on their price and also be part of the crypto ecosystem.

Large firms use to add these assets on their balance sheets and netted against liabilities and equity. Furthermore, some of these assets can also be used to reduce expenses and even improve the efficiency of a company or firm.
What are Examples of Assets?
There are many assets in the world that are owned by investors, companies, people, and governments. For example, if you are now holding cash, then this is an asset. You will be able to use cash to buy things or exchange them for other goods or services.
If you or an institution owns a car, then this can be considered an asset. As we mentioned before, an asset represents ownership of something and it also has economic value. Car owners can be sure they have an asset that has economic value and that can also be used to generate future economic benefits.
Stocks and cryptocurrencies are also assets that can be owned. Individuals can acquire stocks in the open market if they believe a firm is going to be growing and expanding in the future. Once the price of the stock of this company surges, the investor will sell the stock and get cash for it. The same can also happen with virtual currencies.
Are Cryptocurrencies Assets?
Yes, cryptocurrencies are assets. One can consider Bitcoin and other virtual currencies crypto assets because they represent ownership that can be then turned into cash, these digital coins have economic value and they could also be used to generate future economic benefits.
There are thousands of cryptocurrencies in the market that can be considered crypto assets. Thus, it is certainly important to analyze which are the most useful virtual currencies and which of them have the potential to continue growing in the crypto market.

In the next section, we will be making a summary of the cryptocurrency assets that exist and how users can start acquiring them. Cryptocurrency assets have been created after Bitcoin and they seem they will be here for a longer period of time.
How Many Crypto Assets are there?
The cryptocurrency market is a large industry that experienced impressive growth in recent years. There are several cryptocurrency assets out there that could attract your attention. Basically, all cryptocurrency assets that exist today can be divided into several categories.
Type of Crypto Assets
Firstly, there are crypto-assets that offer smart contracts. These virtual currencies and blockchain networks include Ethereum (ETH), EOS, Tezos (XTZ), Cardano (ADA), and many others. These smart contracts are a great tool for users and companies that require no trust in order to operate.
Another kind of crypto asset includes utility tokens. These are digital assets that are needed for users to perform specific tasks. For example, users that want to participate in the Initial Exchange Offerings (IEOs) promoted by crypto exchange platforms would have to hold the crypto-asset of the exchange they are using. KuCoin Shares (KCS) or Binance Coin (BNB) can be considered utility tokens.
In the third place, transaction tokens, are crypto assets that can be used to perform transfers using blockchain technology. For example, Bitcoin (BTC) and Litecoin (LTC) were created as transactional coins. Users can simply hold these crypto-assets and perform transfers with them without having to rely on a centralized authority. XRP is also a transactional token that can be used by larger banks to process transactions.
Fourth are privacy coins such as Monero (XMR) and Zcash (ZEC). These assets allow users to perform transfers protecting all their private information and data. The funds transferred and the addresses will be hidden and only available to the parties that perform the transfer.

Finally, tokenized assets are also considered to be one of the different crypto assets available in the market. Synthetix is one of the Decentralized Finance (DeFi) projects that are currently tokenizing real-world assets. For instance, gold, currencies, and real estate, among other things.
Is Cryptocurrency an Intangible Asset?
Cryptocurrencies are intangible crypto assets. Users can show they own these virtual currencies with the private keys of a specific public address. This would be the only way the user will have to prove real ownership over the coins he owns.
Digital assets use cryptography and blockchain technology to protect the parties that use the network and also to process transfers and conduct governing activities (if applicable). In this way, these virtual currencies can easily be moved, bought, and sold without the need of using centralized and trusted parties (with the exception of exchanges).
All the examples we mentioned in the previous sections are intangible assets. They are different from tangible assets such as houses, cars, or any other asset with a physical form.
Why is it Called Cryptocurrency?
As suggested before, cryptocurrencies have this name due to the fact that they were created using cryptography. Cryptography is allowing transactions on the blockchain to be processed, sharing information between users that is encrypted.
In order for these transactions to be processed and to secure the whole network, virtual currencies use cryptography. This is also certainly important to understand why virtual currencies can be transacted between parties without the intervention of a centralized authority.
Nowadays, thousands of users around the world are using cryptocurrencies without even knowing they are using them. For example, there are many firms and banks that are processing international transfers using digital assets without the clients even knowing about it.
Is Bitcoin Money or Financial Asset?
Bitcoin was created over ten years ago and during this time there is no clear definition of whether Bitcoin is acting as money, as a safe haven, or as a financial asset. Indeed, users can use it as a medium of exchange to pay for goods and services. Also, it can also be used as a financial asset to speculate on its price.

Furthermore, there are firms that are already getting exposure to this virtual currency and are using it as a financial asset. Other companies are using Bitcoin as money and as a medium of exchange to process transfers.
Thus, it will depend on how the virtual currency will be used in the future by companies, governments, and organizations. However, we can use Bitcoin as both: money and a financial asset.
Is Currency an Asset?
Currencies are not considered to be an asset class because there is no premium they are currently paying for just holding them. Investors own assets in order to exchange them for another currency in the future. Additionally, by trying to get a better exchange rate and making some profits in the local currency they used.
Despite having a long-term risk exposure, the currency is not an asset because they do not provide any gains to the holder of the funds. It also has no intrinsic value by itself. Thus, currency cannot be considered an asset.
Is it legal to own Bitcoin?
It is legal to own Bitcoin as long as your country or region where you live does not claim it is illegal to do so. Until now, there are some countries where Bitcoin and virtual currencies became illegal, including Bolivia, Ecuador, and Macedonia, among others.
However, most countries around the world have relaxed or no regulations in terms of virtual currencies. Despite that, many crypto participants and firms are requesting governments to create larger regulations. All this is to protect investors and to operate within the law.
Before investing in Bitcoin, the best thing to do is to analyze whether in your region this virtual currency is legal.
How do I cash out my Bitcoin?
There are different ways in which you can get cash for your Bitcoin. The first way to do so is by using a cryptocurrency exchange like Coinbase or Kucoin. These are platforms that will allow you to sell your Bitcoin and get cashback. Nonetheless, not all of these exchanges offer support to fiat currencies. You will be able to sell your BTC for fiat currency and then link the account to your bank so you can withdraw the cash.

Another way to cash out Bitcoin is by using cryptocurrency ATMs. These machines are usually installed in central areas where people can have access to the cryptocurrency market. Although not all of them support selling, you will certainly find one close to your region where you can sell Bitcoin and get cash.
Finally, peer-to-peer trading is also a good way to cash out your Bitcoin. You can get in touch with people that want to buy Bitcoin and sell the digital assets to them. Some platforms like Paxful are already offering these services to users.
Conclusion
At the time of writing, we are at the beginning of a new decade for cryptocurrencies. In addition, it's becoming clear that cryptocurrencies as a new asset class are here to stay. Besides, this fast-growing market isn't done and new innovations like DeFi seem to be popping up out of nowhere. Therefore as a brand new investor in this asset class, it is important to keep up to date with the latest developments.
With this guide about cryptocurrency, assets explained we hope to have given you a better view of this brand new market. Also, if you got curious and want to know more about Bitcoin, read this article about how to start a Bitcoin investment.
Disclosure: This post could contain affiliate links. This means I may make a small commission if you make a purchase. This doesn't cost you any more but it does help me to continue publishing cool and actual content about Bitcoin & Crypto – Thank you for your support!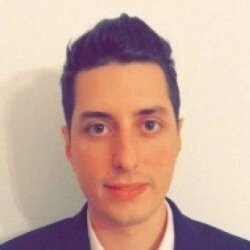 Latest posts by Carlos Terenzi
(see all)